AIRES
The French appear to have a love affair with Le Camping Car and in many towns, you will find the stopovers or Aires, as indicated by the road sign of a blue campervan on a white background.
Not here are the dreaded height barriers which appear in so many of our UK towns. In France motorhomes are positively welcomed and the aires are designed to attract campers, in order that they will spend their money locally in the town.
Coupled with the fact that the country is much bigger, the roads outside the main cities quieter, that you can turn into a supermarket and generally park your unit; you can understand why this country is so popular for motorhomers.
SAFETY
You hear all the 'Daily Mail' scare stories, of people being gassed in their motorhomes or of caravanners being stopped and whilst stationary, either their van is unhitched, or possessions stolen.
In all the time I have been to France I have never experienced any problems. As long as you take the normal sensible arrangements, that you would if at home and bearing in mind that you are using the aire with like minded people, you should not experience any problems.
I would, however, avoid motorway aires,some of which have motorhome facilities. If anything is going to go wrong then this is where there is the greatest potential risk, as any perpetrator can make a quick exit.
Anyway, why would you want to camp on a motorway.
WHAT DO YOU GET?
Fundamentally you get a stopover, which should be limited to 1 or 2 nights but I do know people stay longer.In some cases this is for free and in others there is a nominal charge of say a maximum of about 5 euros.
Additionally there is normally a central service point, which provides for fresh water and an emptying point for your grey and black waste.
There is sometimes a nominal charge for fresh water. Typically this charge will be 2 euros,so make sure you have some coins with you and often they only take a 2 euro piece not two single coins.
For water make sure that you have a number of tap connectors as they are not always of the threaded variety.
Also for grey waste I have fitted an extended waste pipe to my unit as it is not always easy to manouevre up to the waste point, particularly if you are like me and are useless at reversing.
There are also, sometimes, a limited number of electrical connections at the service point where you pay for a limited amount of time. I can not see why there would be any need for these as long as your leisure battery is in good condition and being charged whilst you are moving.
In conclusion an aire offers a very low cost form of camping and is ideal if you are on a tight budget or are doing longer trips. They can be very scenically located and are nearly always convenient for local amenities, but in some cases they can resemble a car park.
The aire below is at St Valery en Caux which illustrates all the positives of an aire, ie its scenic location and proximity to the town but you will need to to get on with your neighbours.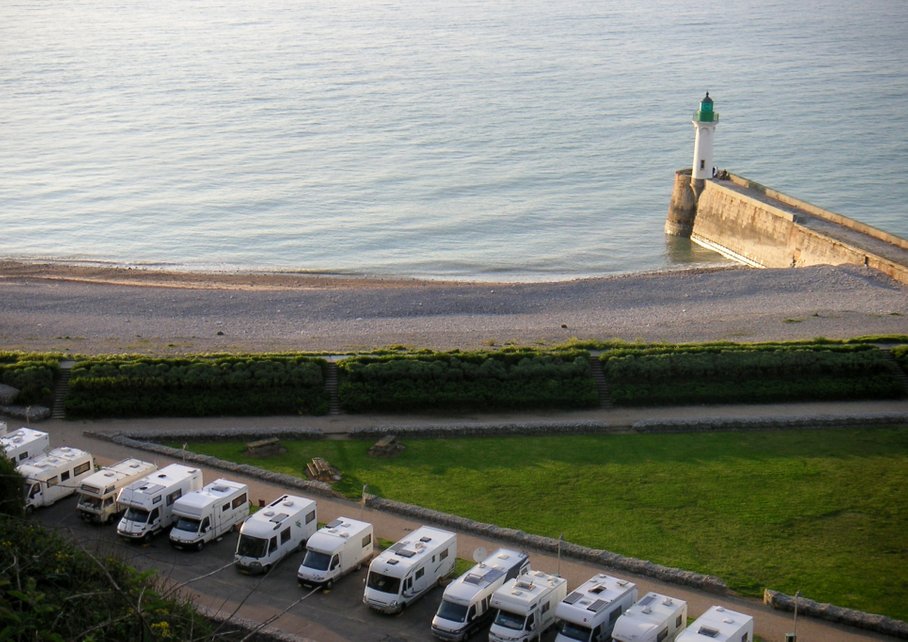 The Aire below is at Le Crotoy on the Bay of the Somme.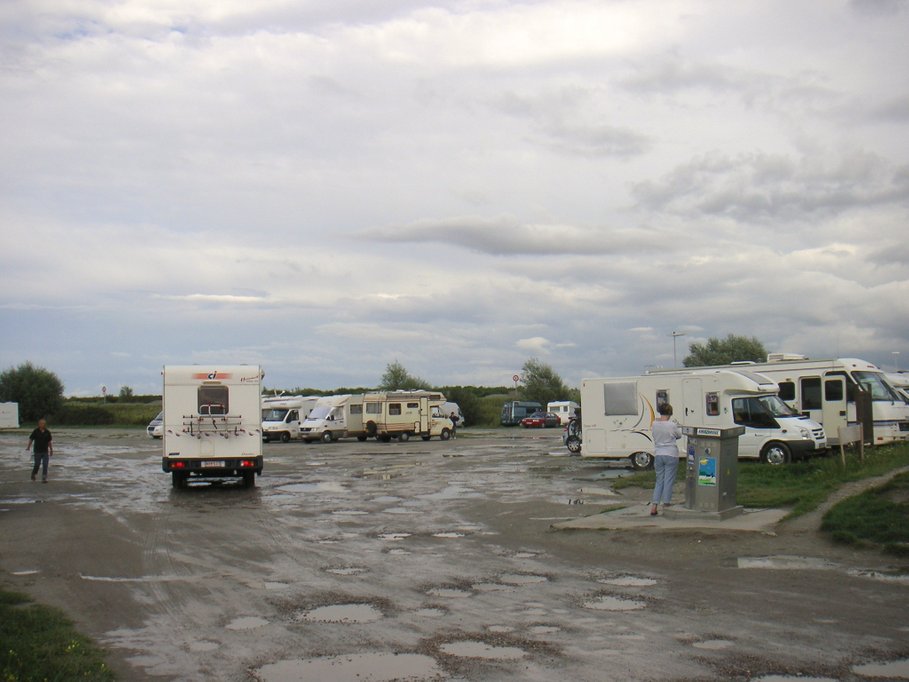 This is one of our favourite aires for a stopover as it is only an hour and a half from Calais and it has a more open feel that many other aires. Le Crotoy is an unpretentious seaside town, where fresh fish is de rigeur and with a great market on Fridays.
It has some pleasant bistro type restaurants which are very reasonably priced and moules and frites replaces fish and chips. There is also an easy cycle ride (round trip about 20 miles)around the bay to St Valery sur la Somme which is along the banks of the canal, which connects St Valery to Amiens.
St Valery is allegedly the point where William the Conqueror departed to invade England in 1066. St Valery is well worth a visit and in fact it does also have an aire at the top of the town.
The cycle ride to Amiens, along the canal is also very enjoyable and of a similiar distance.. If you do not want to do anything energetic, you could catch the steam train from Le Crotoy, which goes around the bay.
LOCATION
The bible for locating Aires is the "Aires de Services Camping Car", a handbook which is updated annually,showing the location of aires.
This can be obtained from bookshops, from Amazon, or from the Camping & Caravaning Club, or from
www.vicarious.shop.com
Alternatively if you have a laptop you can go online at:
www.i.campingcar.fr
and this is of course free and up to date.Both guides are in French but generally easy to use.
The stopovers are arranged by French departements (similiar to counties in the UK) which I find a bit of a pain but then I am not French. The handbook has the advantage that it covers other countries.
In Germany they are called "Stelplatz" and further information can be obtained at:
touring24.info
Also there are details of the France Passion scheme, which are similiar to certified locations in the UK, in that they are small sites for a few units, where you can stay overnight .
The rule here, is that in return for your overnight stay, you buy some local produce eg a bottle of wine, some eggs, cheese depending on where you are staying.
www.france-passion.com
You will also come across stopovers, which are not listed anywhere, wherever you see a van stopped, just join them and make friends. Just don't park up where it is expressly forbidden.
BEZIERS VILLENEUVE
The aire pictured below is alongside the Canal Du Midi, next to the campsite "les Berges du Canal".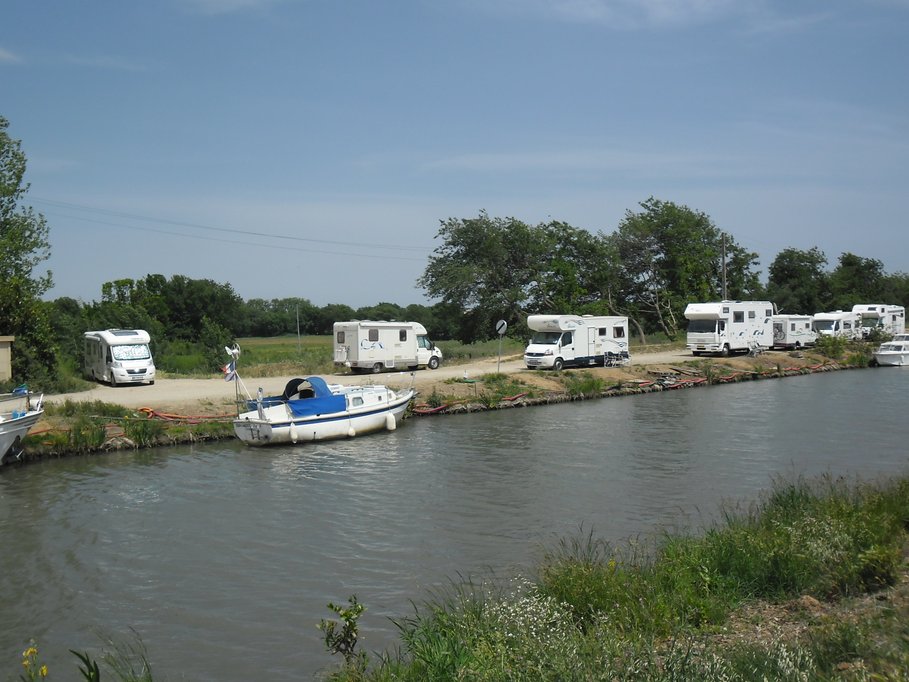 The latter is a pleasant site and a rarity in that it is next to the Canal du Midi.
You often find aires situated next to municipal campites and so you can have the choice, of a more basic pitch or the facilities of the campsite.
In many cases where the aire is next to a campsite then the service point is within the site.
In some cases these sites offer you the facility, at a small charge, of using their showers. This is ideal if you are making a day visit, to say,somewhere like the chateau at Azay Le Rideau( picture below) and you want to stay at the Aire at the village and make the 5 minute walk to the chateau.
Though I must confess the municipal site next door is extremely pleasant.
Claims are made that this chateau is one of the most picturesque in France and who am I to doubt them and it would certainly give Chenonceau a run for its money.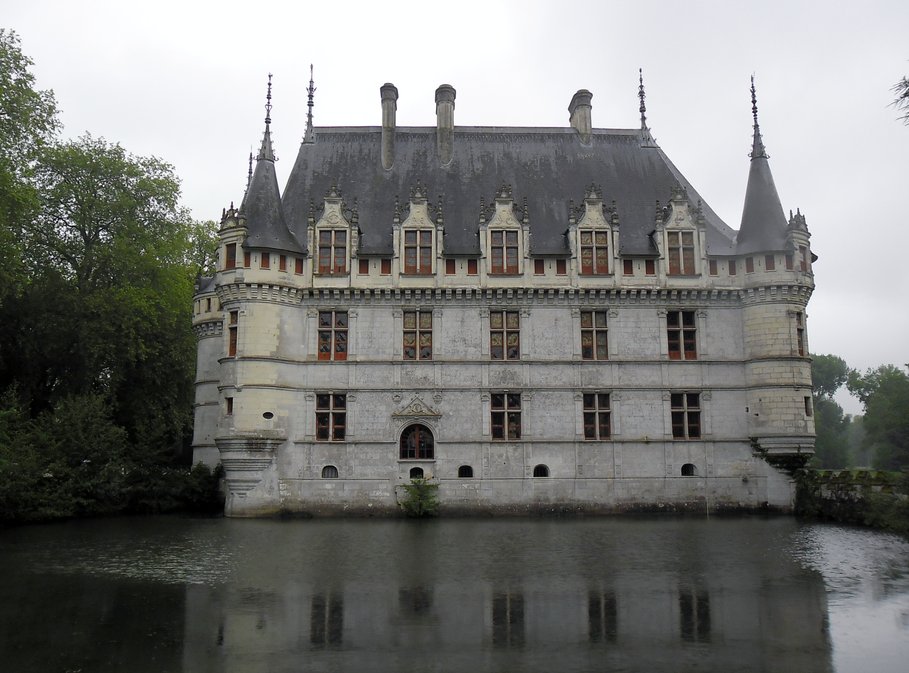 We discovered the AIre, below, whilst cycling from Montsoreau to Saumur.
It was unusual in that it was a large greenfield site, close to the Loire and had about three vans. I am guessing that it used to be an old municipal campsiite.It was indeed a ittle gem which we often come across whilst cycling or walking and then decide to make a visit.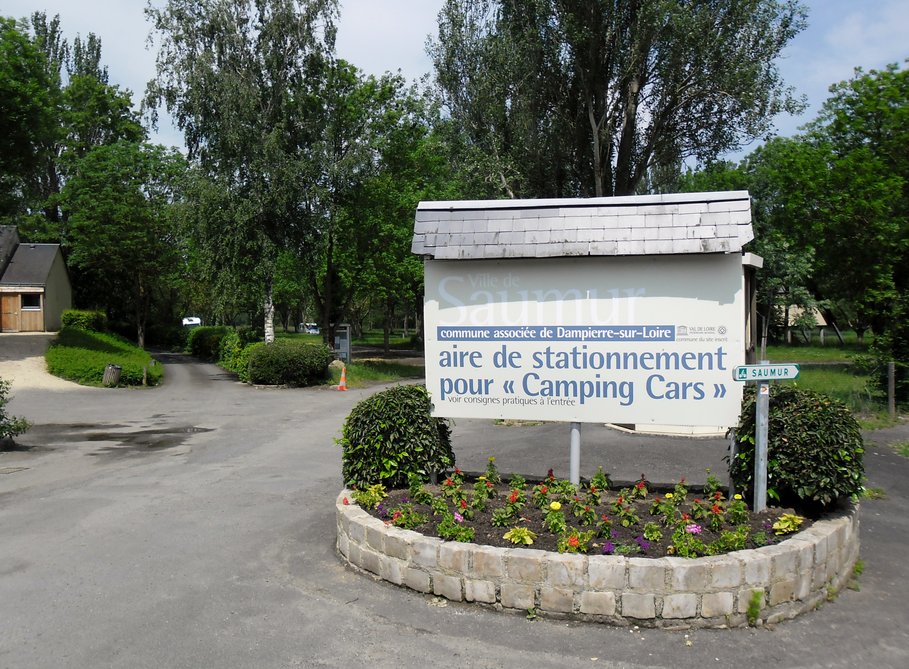 MUNICIPALS
We have to make a confession here, we love French Municipal campsites.
Why?
Firstly we tend to travel in low season, so invariably on these sites we virtually have them to ourselves.
Secondly they provide everything we want, an electric hookup, water and drainage and good sanitary facilities and did I mention that they are extremely good value.
Often they are attached to the local municipal swimming pool and you get a swim thrown in for free.
Also they tend to have motorhome service points which is the more that I can say for many commercial sites.
Ok you will not get those facilities that you would with a commercial site, such as on site restaurants and shops and you will probably have to walk down to the local boulangerie to get your bread in the morning; though that is not a hardship.
They will be generally situated close to town, so you can get everything that you want.
Camping Les Portes de l'Anjou at Durtal on Le Loir
www.lesportesdelanjou.com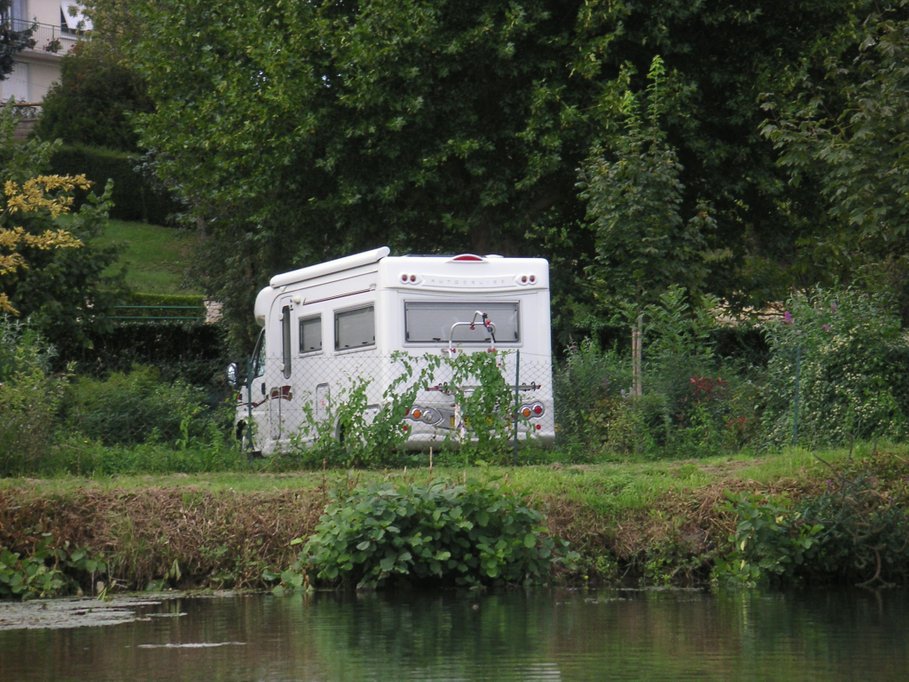 In off peak you get get choice peak emplacements, on the Le Loir riverside
We are cheating slightly here, as this is in fact an ex commercial site on le Loir, the baby brother of the bigger La Loire.
It is further north than its sister but is well worth the visit. Durtal with its ancient river crossing, ancient mill, chateau and weir is a gem.
In fact everywhere you turn on this river you come across weirs, old water mills and fishermen and perhaps the chateaux are not as grandiose as those on the Loire but it is a beautiful region.
All this for 15euros and a free swim at the municipal pool.Also with a riverside pitch, who cares that they have not cut the grass on the site.
You can also hire canoes and spend a leisurely hour chasing the local kingfisher, he was a bit faster than we could canoe.
Just up the road is the delightful Municipal La Chabotiere at the picturesque town of Luche Pringe
www.lachabotiere.com
another riverside location and at 12.5euros a night,with free swim in the next door municipal swimming pool, who can argue with that.
There is a pleasant river walk from the site to an ancient mill (below)and an exercise park.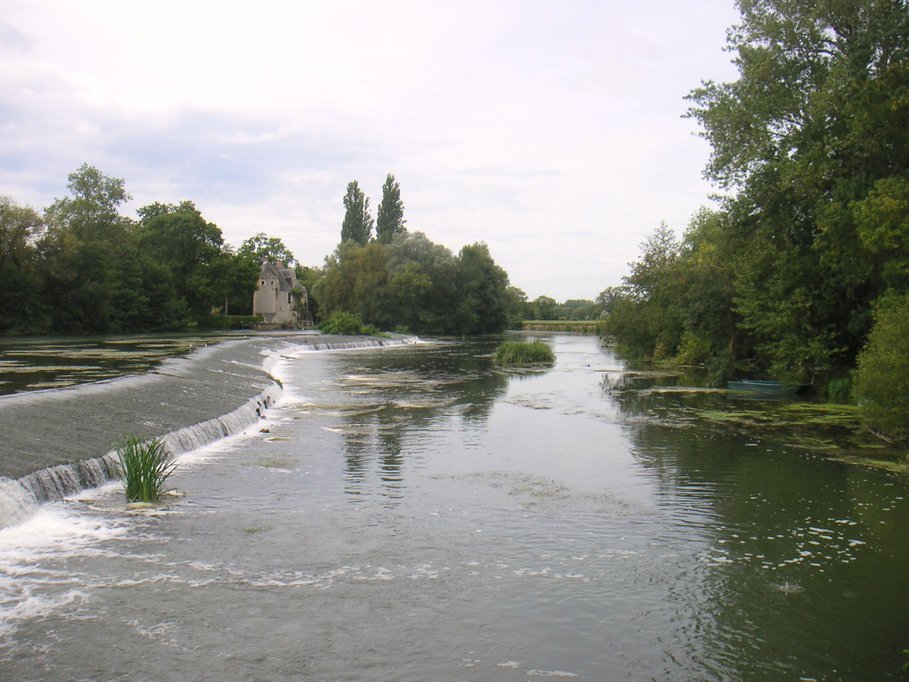 Also from the town there is a voie verte,an off road cycle route, following an old railway line which takes you into the town of La Fleche, which is a classic stone built market town.
It also features the Moulin de la Bruere, which you can visit and is one of the oldest working mills on the Loir.