Nomansland
9 miles circular on quiet forest roads & byways
Landranger OS Map 184
This is a cycle ride on the northernmost borders of the New Forest, on the Hampshire, Wiltshire county boundaries and we based ourselves at:
Green Hill Farm Caravan and Camping Park, New Road, Landford, Wiltshire SP5 2AZ xxTel 01794 324117
http://www.greenhillholidays.co.uk/lock
We first stayed here about 6 years ago for an overnight stay. It is a very pleasant spot and one of its selling points is its location around fishing lakes and though we do not fish, it is a great outlook.
A few years ago it was taken over and is in the process of being upgraded. The last time I went, they were trying to get planning permission for new toilet blocks, to replace the somewhat tired porta cabins and since this they have opened 2 new toilet blocks, one of which is a family toilet block.
The lakes have been designated an adults only area and there is to be a new toilet block open in 2014.
There is also a designated motorhome service point.
As you would expect prices have increased since we first went, roughly doubled, but the prices are en par with the tariffs set by Camping & Caravan Club sites 26 and it is a great little site, with direct access to the open forest at its rear.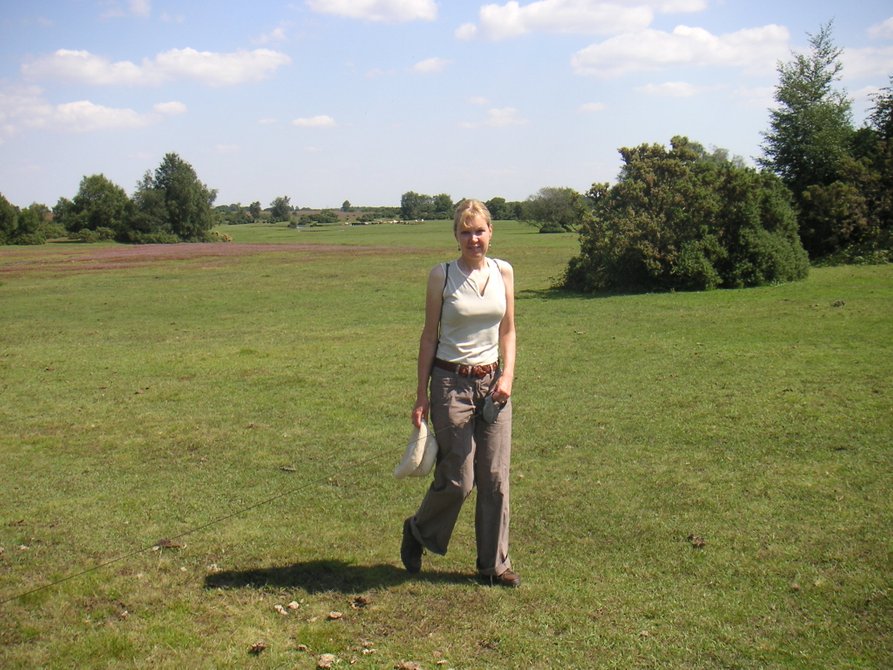 Julia enjoying a stroll in the open forest - literally at the bottom of the site
The Cycle Ride
This is a leisurely ride which ideally should be combined with a pub lunch or picnic.
Turn left out of the site, up to the main road and then take the road opposite to the village of Nomansland, apparently named in the 17th century because no one was sure whether it was in the New Forest, or something similar.
If you can time your visit to coincide with the village fayre, usually on August Bank Holiday, then this is good fun. It is a real old fashioned village fete with dog shows, tug of war and ferret racing to name a few.
One of the strangest events that we have seen was the 'Splottery'. This is definitely a lottery with a difference. You buy a numbered square and the aim of the game is that you want the cow to splat in your square to win the prize.
Alternatively you can enjoy watching the cricket, with a pint from the Lamb's Inn. There is something uniquely English, when you watch village cricket, with a pint in your hand and the backdrop of the village pub.
If cricket is not your thing you can always enjoy a drink in their excellent gardens and it is glad to see that the honourable tradition of the pub garden being upheld in such fine style. You will, however, have to leave your bikes outside.
There is also the celebrated case when they asked a dozen 'smelly' cyclists to leave the pub. I would add that we have never experienced any problems, but then there are only two of us.
Also allegedly the county border went through the pub and the story goes, is that you used to move from one bar to the next, to take advantage of the different licencing laws.The border now follows the road.
www.the-lamb-inn-nomansland.co.uk/Forest or not
You take the turning on your right and you are now definitely in Wiltshire. You continue down this road for about a mile, until you reach a junction.
You need to bear left and virtually opposite is a byway which you need to take.
You continue for about a mile until you reach a small lake which is an idyllic spot for a picnic.
You continue along he byway until it becomes a paved road and you continue for about a mile.
You turn right and after a short distance you turn right again and continue down this road for nearly 2 miles.
You pass the Cuckoo Inn and then turn right and after a short distance take the road on your left and after a mile you bear left. This is the point where you took the byway on your outward journey so you should recognise it. After bearing left you follow the road for about a mile and you are back in Nomansland.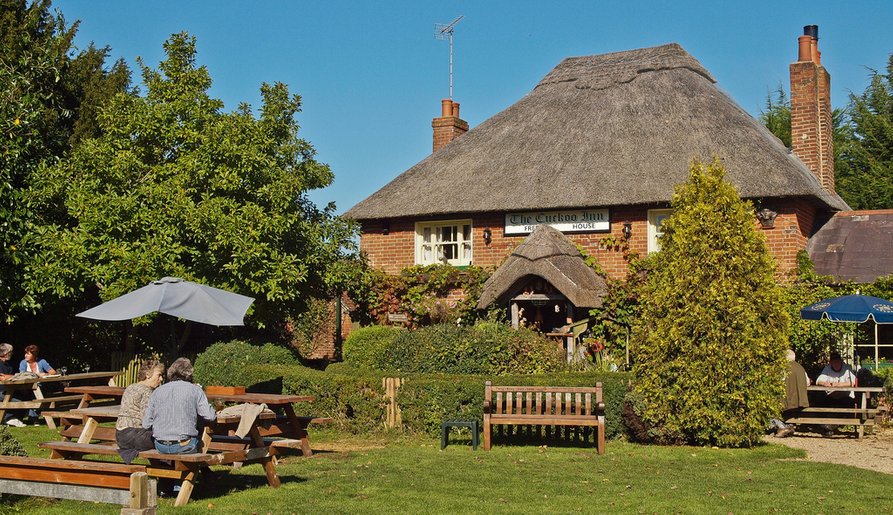 Picture of the Cuckoo Inn at Hamptworth Courtesy of Anguskirk
There is a camping and caravanning certificated site on your left and though we have never used it, it looks pleasant enough.
You then retrace your steps back to the site.