Sweden by motorhome -A motorhome tour of Denmark, Sweden and Norway based, on their three capital cities of Copenhagen, Stockholm and Oslo.
Sweden
MALMO
A short 45 minute drive from Copenhagen across the Oresunds Bridge and we arrived in Sweden and the city of Malmo.
The Oresunds bridge was completed in 1999 and links Denmark and Sweden and though the tolls are hefty, we paid 650 Danish Krone, about £73, it would be comparable with a ferry crossing and it is a superb piece of engineering.
Again the cut off point for the cheaper rate is 6metres and though I joked with the toll booth cashier that I would like to be less than 6 metres ,she appreciated my honesty, I am not sure my wallet did. It is worth bearing in mind that if you are marginally over 6 metres they do not come out with a measuring tape.
We stayed at Camping Siibbarbs with its magnificent views of the Oresunds Bridge.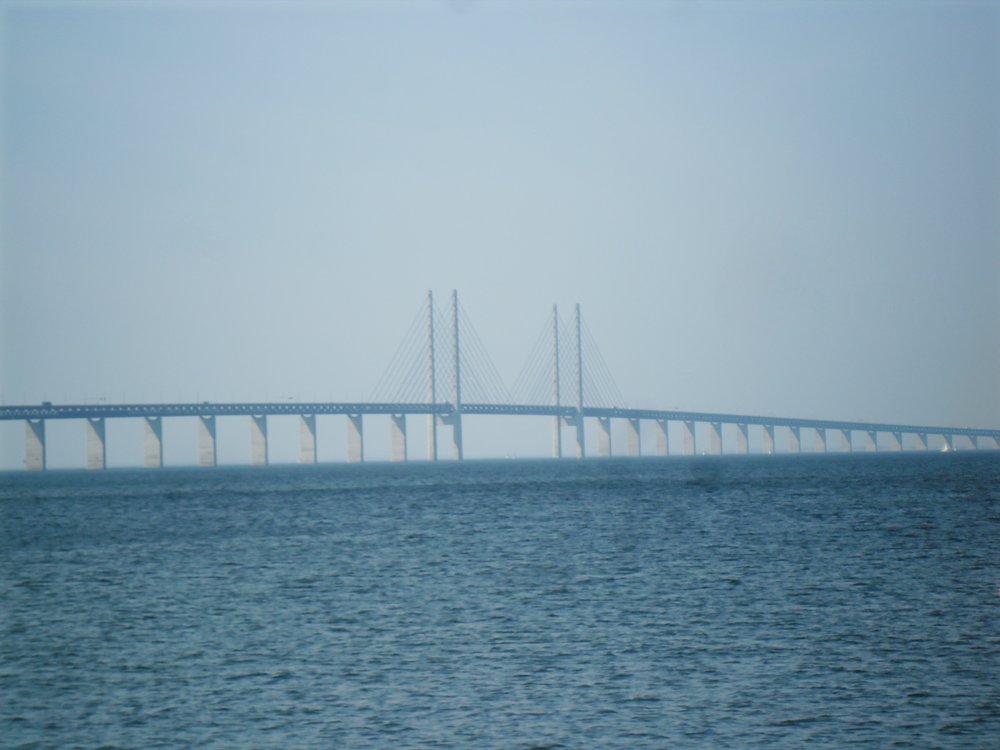 www.firstcamp.se
This was not the cheapest of sites at £30, slightly more expensive as we had hit Malmo at the time they were hosting the Eurovision Song Contest, so invariably prices had risen.
The facilities were superb with private bathrooms available and full cooking facilities if you required them. The use of microwaves and gas hobs must be a boon for tent campers, facilities you would not find in the UK.
Additionally you had to buy a 'Camping Card' for £15 which is then eligible for all your stays in Sweden and Norway. We were able to use our 'International Camping Card' in Denmark.
Malmo is an attractive 30 minute bike ride away from the site and in most cases follows the coast, though you have to come inland to avoid the massive cement works, which looks like it is in the process of being demolished.
It is a great city to explore by bike with attractive parklands and extensive esplanades. Again the city is very bike friendly and I made a comparison with Eastbourne, which has an equivalent esplanade, banned to cyclists with the threat of a hefty fine.
Whilst on the subject of Eastbourne I noted the difference between the protected junctions and roundabouts in Malmo and where you take your life in your own hands when you cross the roundabouts on the Eastbourne cycle ways.
This aptly sums up the different attitude to cycling in the two countries and explains the relative popularity of cycling in one country versus the other.
Malmo has an attractive medieval centre with the Stortoget main square at its hub but we found the square next door, the Lilla Torget more attractive and intimate.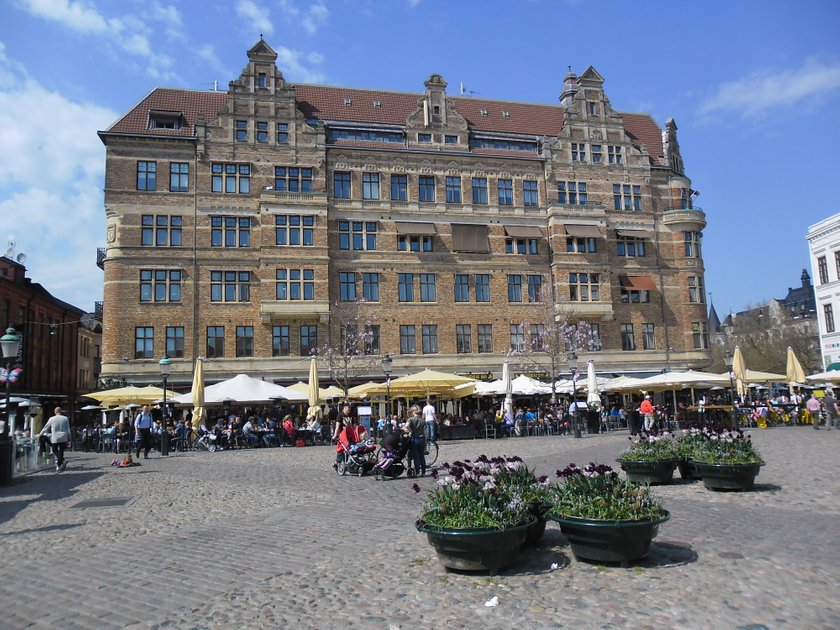 And it has its very own castle, which now houses a museum.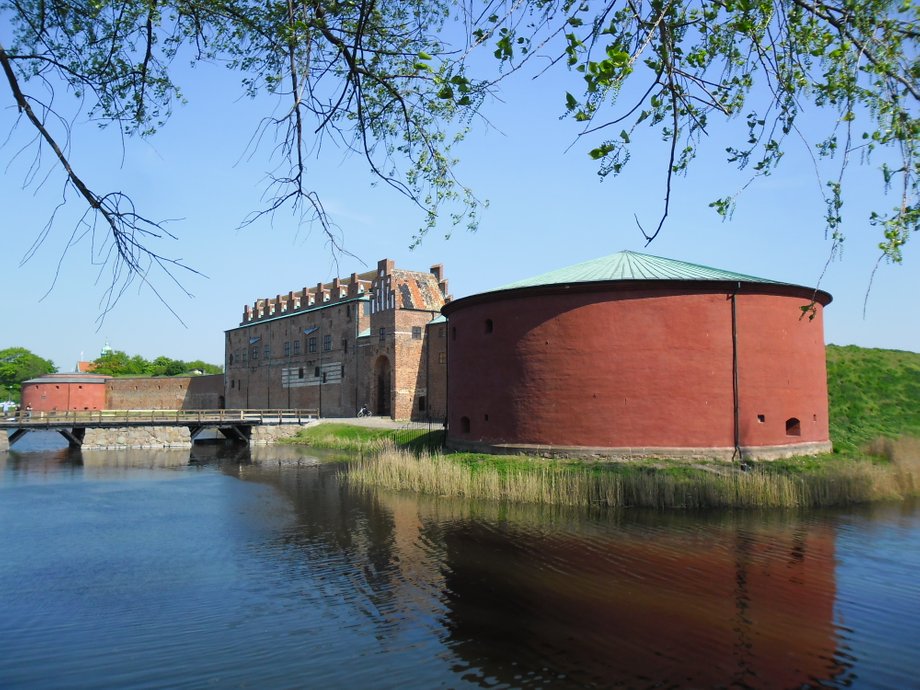 If you are on a budget and want to free camp there was a car park, just up the road and there were public facilities a short walk away.
KARLSKRONA
The theme of our trip was to link the three capitals so after Copenhagen, Stockholm was next on the agenda but rather than hack up the central motorway, we decided to take the coastal route,the E22 via Karlskrona and Kalmar.
In hindsight we wished we had built in a trip to Lund, which has been compared with Oxford or Cambridge, depending on which guidebook you read.
You do, however, have to be careful of guidebooks, as the one we read, said that the square in Karlskrona was one of the biggest and most beautiful in Northern Europe and though it may score on the first, I cannot say it would qualify on the second. It would have helped if there had not been a car park in the middle. Ok Nancy is not in Northern Europe but if you want a beautiful square then there is your answer.
The town is, however, interesting and worth the visit. It is Sweden's biggest naval port and has a long history, associated with the navy and is classified as a UNESCO world heritage site.
Sweden's oldest entirely wooden church,built in 1685, can be found in the town.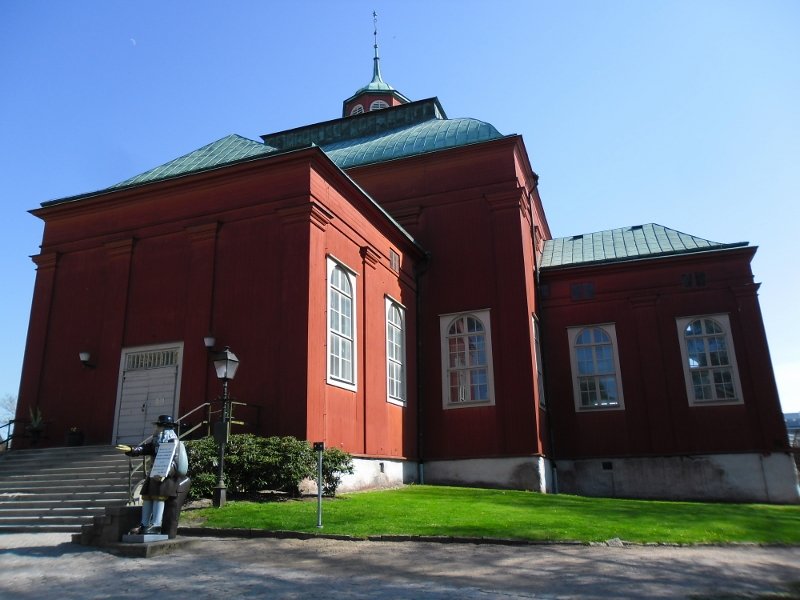 The statue in front of the church is of a beggar called Rosenbom, who had the audacity not to raise his hat one night to thank a wealthy German carver, Fritz Kolbe for his donation.
Kolbe not very happy about this made his displeasure known to the beggar, who retorted if you want me to raise my hat to thank you for the crumbs that you give to the poor then take it off yourself.Kolbe enraged, struck the beggar with his stick between his eyes.
The next day Kolbe returned to the spot where he discovered that the beggar had died, frozen to death in a snowdrift.
Full of remorse, Kolbe carved the figure below which is so designed that if you want to give money then you have to remove his hat yourself.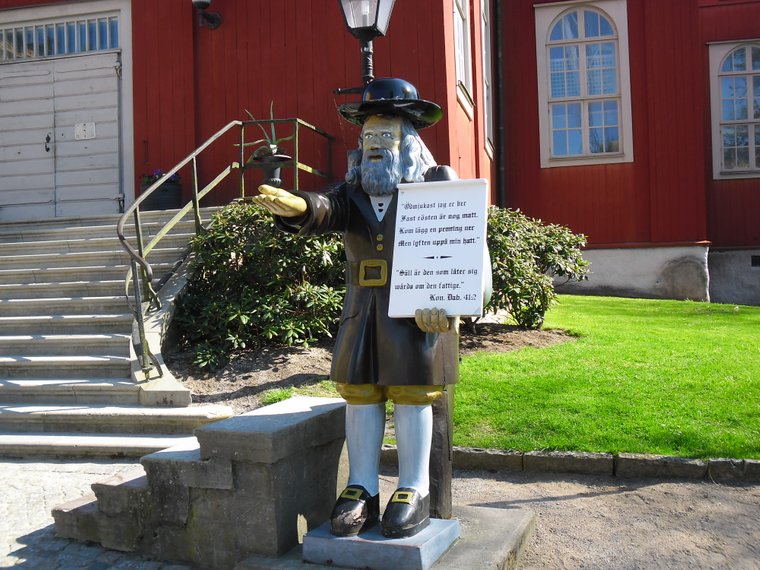 Again we took full advantage of our bikes to explore the city and make the one mile trip from our campsite, Drogso Camping, situated on an island of the same name.
www.drogso.se
This was an excellent site and we had the advantage of a seaside setting all for £19. Though a large site it has a number of smaller designated, often secluded areas .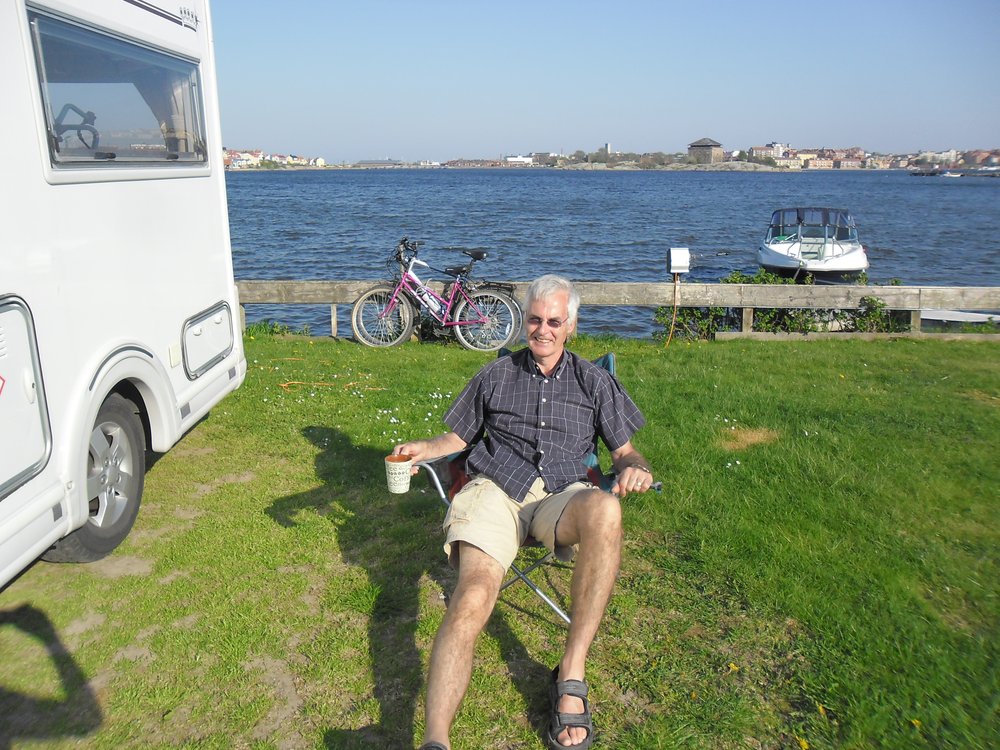 The bikes are ours but sadly not the boat.
What was somewhat bizarre was the pacifier tree,found in the campsite, it was adorned with disused baby's dummies.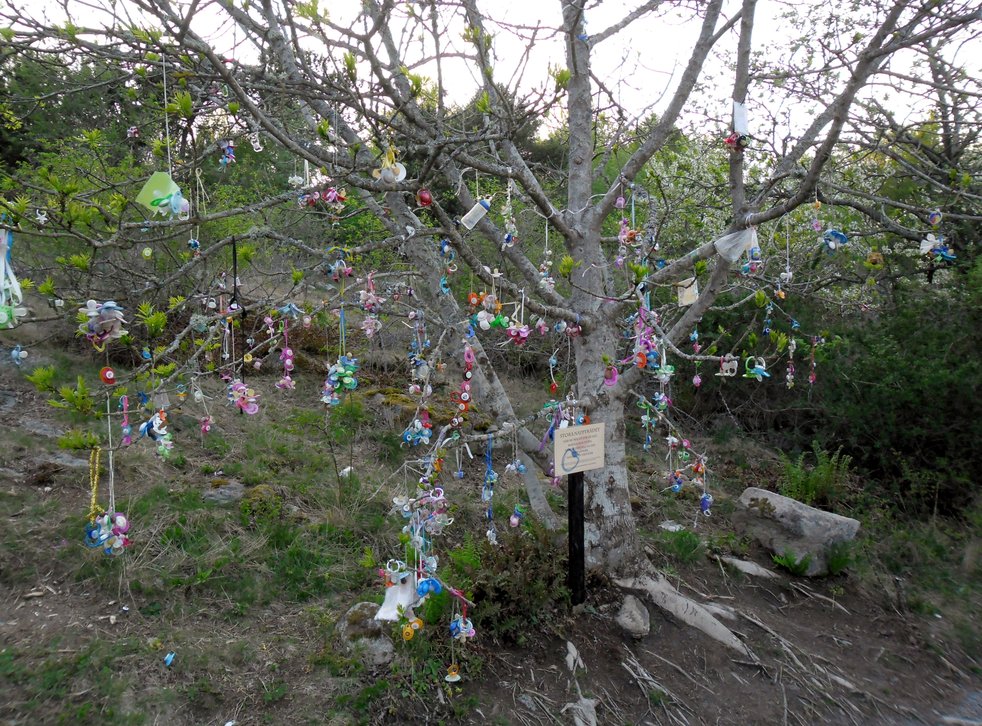 If you plan to visit this site just be aware that on midsummer's eve there is a massive festival in the town so I would guess you would need to book for this period.
KALMAR
An hour and a half up the road and you arrive at Kalmar. Though the old town is medieval , it somehow does not quite capture the imagination, as does other medieval centres, that is not to say that it does not have its charms.
The main square, Stortorget, houses the cathedral and if you wanted to make a comparison with Karlskrona , this square is the more attractive, with its cathedral as a main focal point.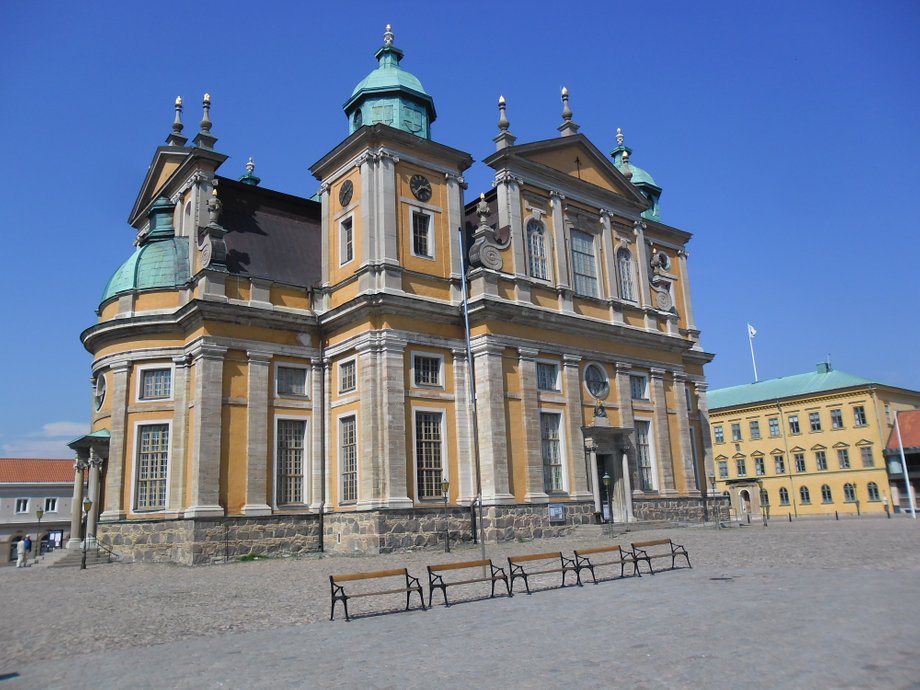 The smaller square, Larmtorget, with its numerous cafes has a very atmospheric continental feeling.
There are still some remanants of the original fortifications and gateways; the most impressive being from the Vasterport.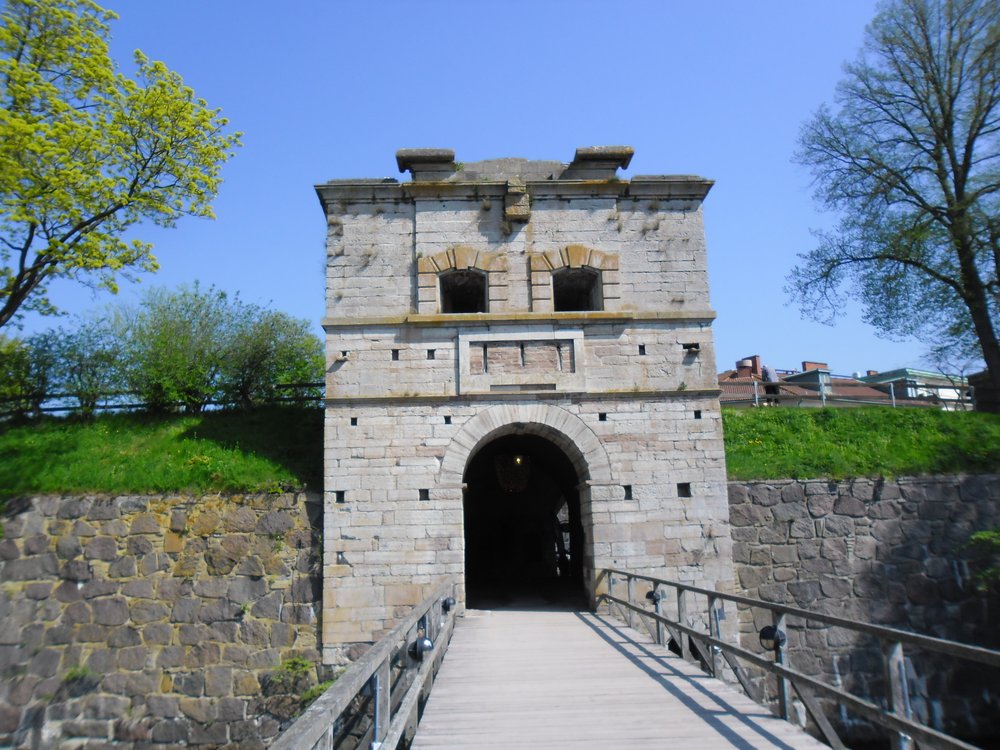 We stayed at Stenso Camping on Stenso Island, about a mile from the old centre.
www.camping.se
It is in a pleasant woodland setting and though the facilities were a little dated, they were more than adequate and reasonably priced at £20.
A short cycle ride around the coast takes you to the old town, via the really impressive renaissance castle.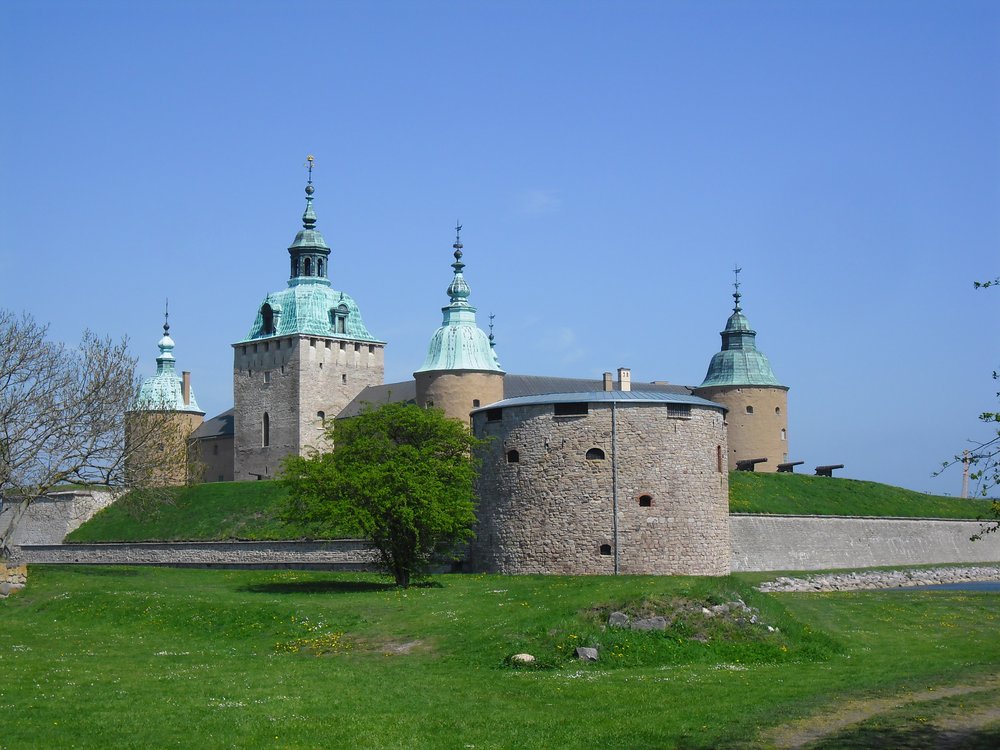 This castle was apparently significant in the Kalmar agreement in the 14th century, which united the kingdoms of Sweden, Denmark and Norway.
You can continue to cycle along the coast in the direction of the 4 mile long Oland's Bridge, which connects the mainland with the offshore island of Oland.
The island is a very popular holiday destination for the Swedish.
Do not miss the 6km cycle ride or walk around the island of Stenso with its magnificent coastal views.
NYKOPING
We called in here as basically I had had enough of driving.
It is not an unpleasant town but at the same time you would hardly get too excited.
We knew there was a campsite nearby at Strandstuvikens, so basically we headed into town and followed the campsite signs and after checking with a local who assured us we were on the right track we found what we were looking for.
It has an attractive outlook overlooking the Baltic and provided us with all the facilities that we required.
It was a 5 mile bike ride into town , which provided a welcome relief from driving, The harbour area, though hardly buzzing on a grey damp day, was nevertheless very attractive and you could see its potential on a bright summer's day.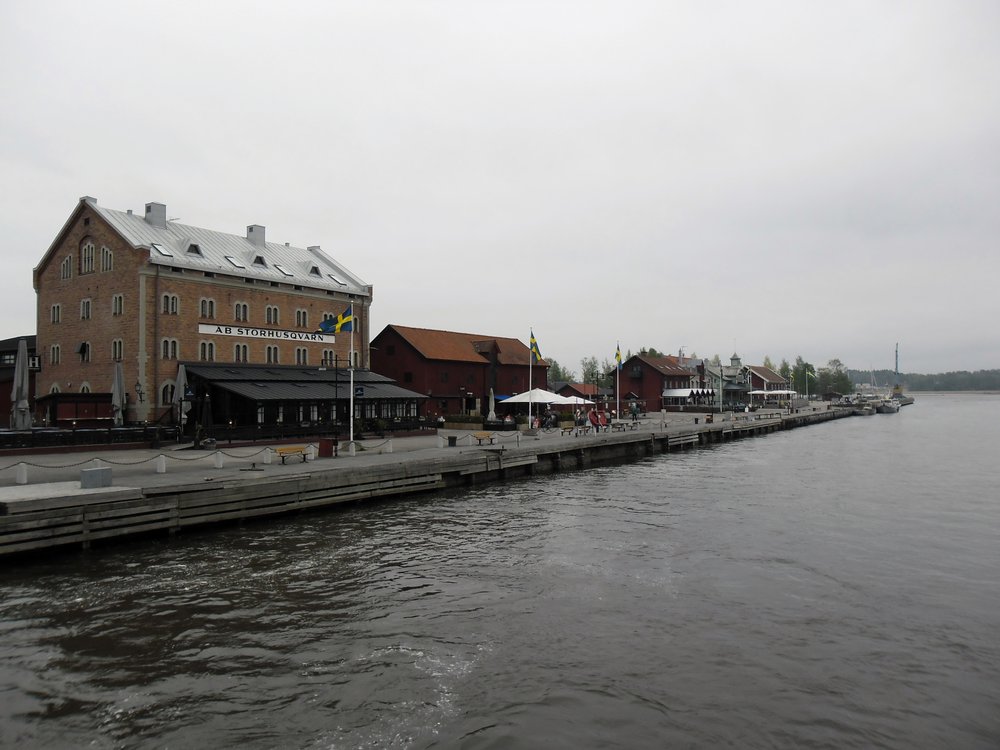 Its other claim to fame was its ruined castle and the infamous story of the Nykoping Banquet, when in 1317 Birger, one of the sons of King Magnus, invited his two brothers over for Christmas. He then had them thrown into a dungeon and let them starve to death, so beware of family Christmas invitations.
This town was once a very busy port and additionally manufacturing centre and the museum has done a good job providing explanatory legend boards but it was a shame that not all had an English translation.
The other amazing point of interest was this inflator for bike tyres provided in the centre of town. o.k the picture is posed but we could not get over the provision of this free facility, have they not heard of handpumps for bike tyres.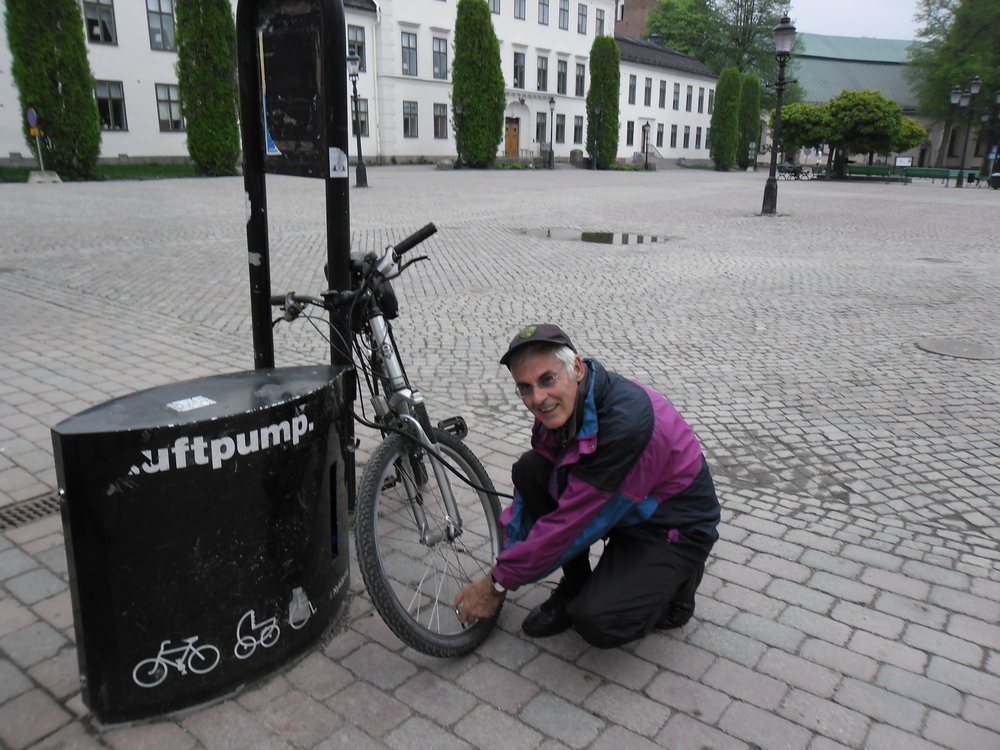 STOCKHOLM
A short hour and a half journey and we had arrived at the impressive campsite at Bredang. Though this was more expensive at £31 a night, this included Wi Fi access and excellent facilities in a parkland setting.
It also must be unusual to have deer and hares visiting you at a site so close to a major city.
www.bredangcamping.se
Though we arrived in May and the site was very quiet, I can imagine this site coping admirably in peak season.
They provide a map of the cycle route into town, which is about 5 miles and though the map does not necessarily look too reassuring, trust me it is simple to get into town, though on the first two streets, there are a number of ups and downs but it is not a difficult route.
The first part of the ride is on quiet residential streets but as you enter the city from the Liljeholmen Bridge you are soon reminded, that you are now in a major city and though we did not feel intimidated, it was a lot more hectic than the other towns that we had cycled in and there were a number of occasions that we chose to walk.
Also for the first time we came across cyclists who were prepared to jump lights, it is obviously a big city mentality, as we see it all the time in London.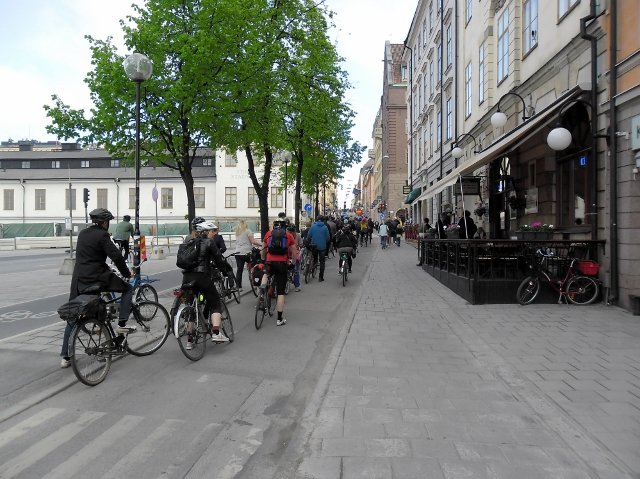 We also returned in rush hour and that was great fun, but have you ever seen a traffic jam of bikes.
On the first day we chose to ride to Djurgarden, which were in the past hunting grounds and what a contrast this was with the hustle and bustle of the old town. Djurgarden is complete tranquillity and well worth a visit.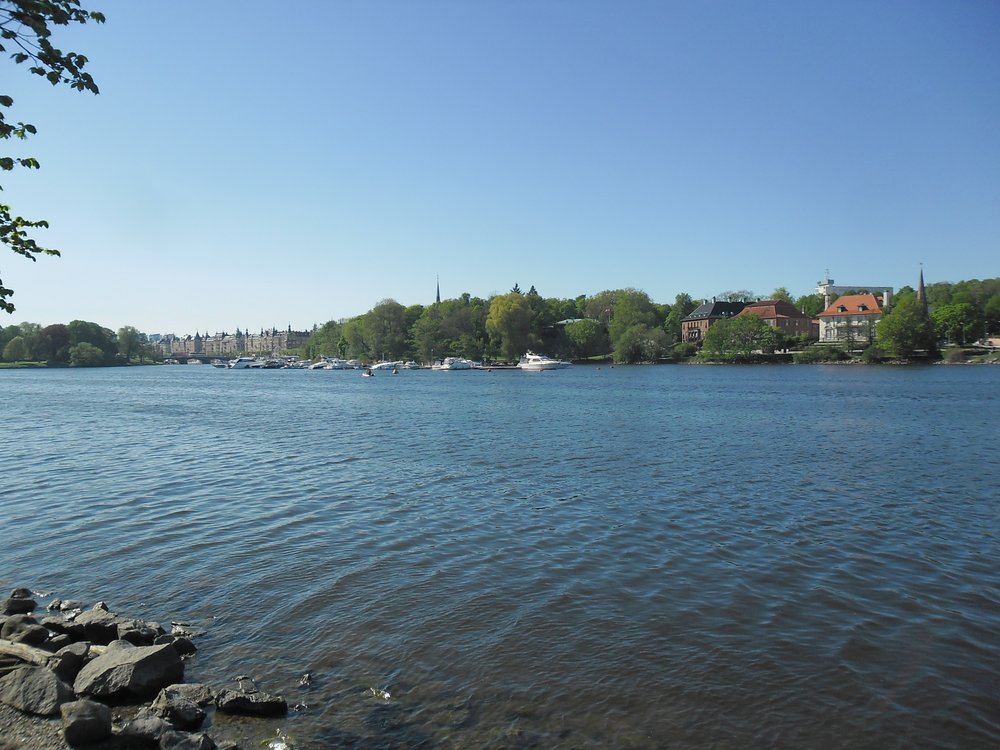 A view from Djurgarden
There are two major museums, the Nordic Museum (pictured below) ,which is an incredibly attractive building, best viewed from across the river and the open air Skansen museum .In total; including a tour of the park we did 25 miles.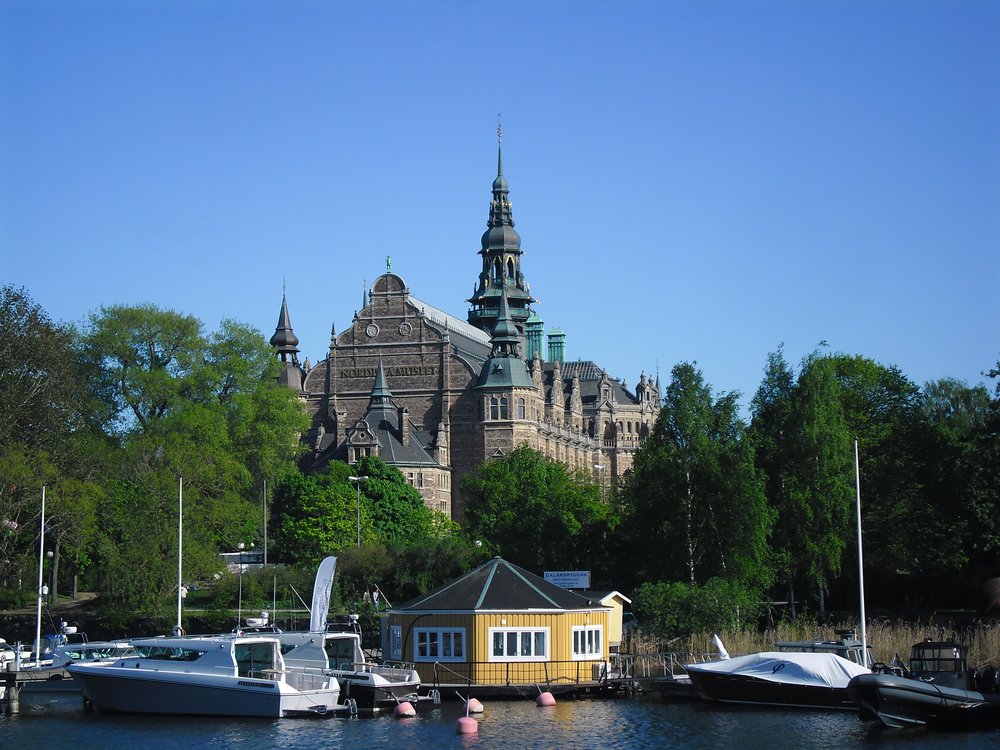 THE OLD TOWN GAMLA STAN
Having pushed our bikes through Vasterlanggaten we rapidly came to the conclusion that the best way to explore the old town was on foot.
Fortunately the tube station at Bredang is only a 10 minute walk from the site. You turn left out of the site, cross the main road and keep on going until you hit the station.
A quick query at the enquiry desk at the station and they advised us that the best way to get a ticket was to buy them at the kiosk, which are Pressbyra newsagents.
They advised us to buy a card for 20 kroner and a 100 kroner top up as this was cheaper than buying individual tickets priced at 35 kroner each and they also advised us that we could use the same card for the both of us.
The total charge each way was 30 kroner for two. So that in fact left a 40 kroner credit.
It is also possible to but a combined museum entry and travel card.
Ok the old town is littered with souvenir shops, but everyone has to make a living, but we found it great fun wandering through the narrow medieval streets and coming across quiet squares and alley ways, away from the throngs.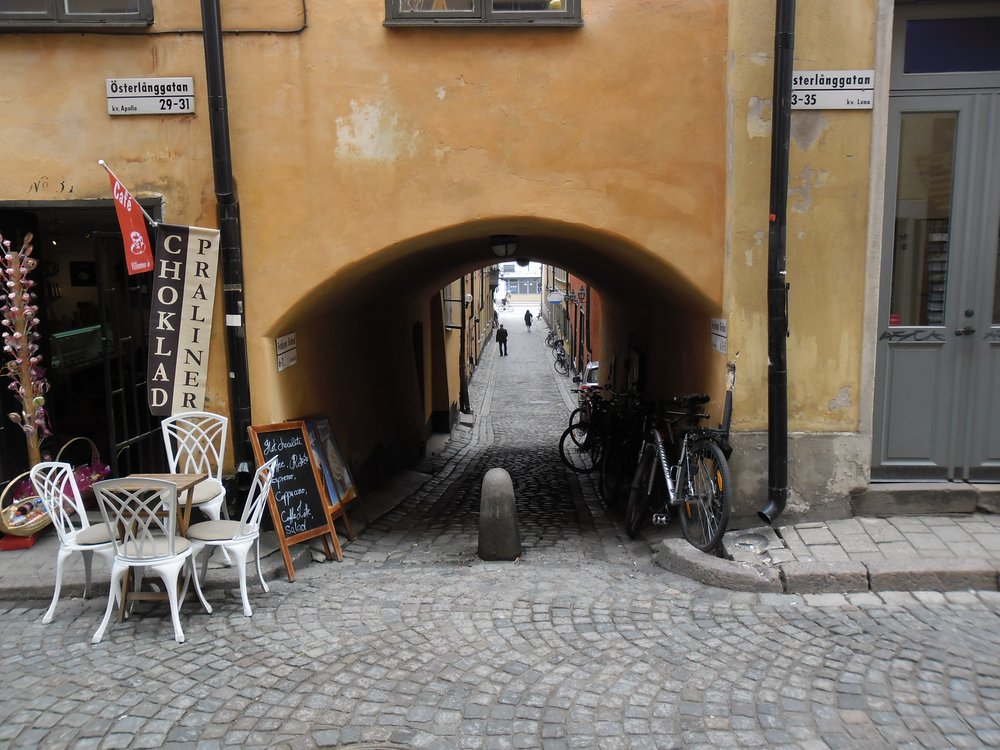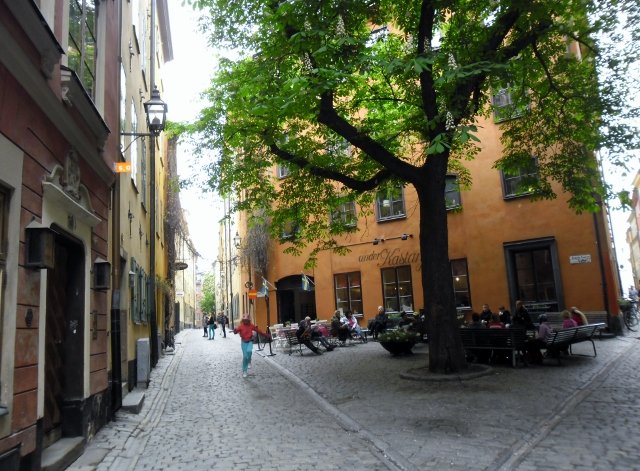 There are also of course the major city sights: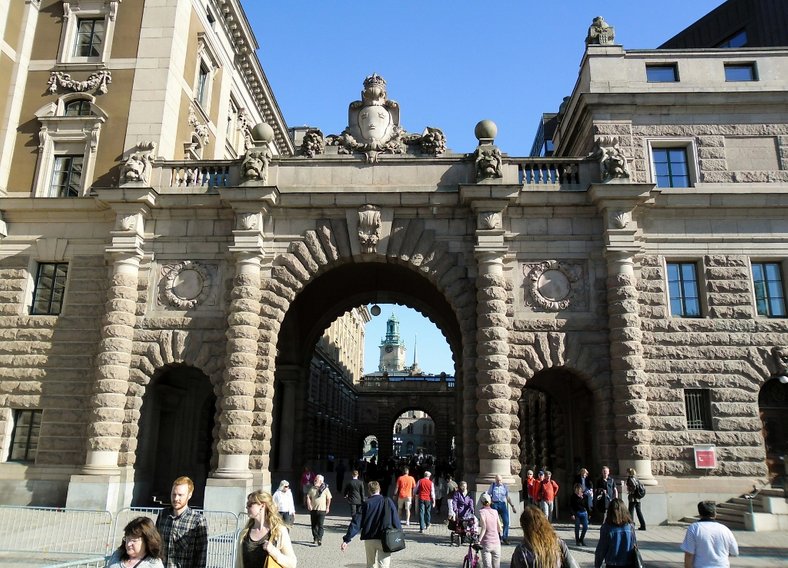 Entrance to Rikdagshuset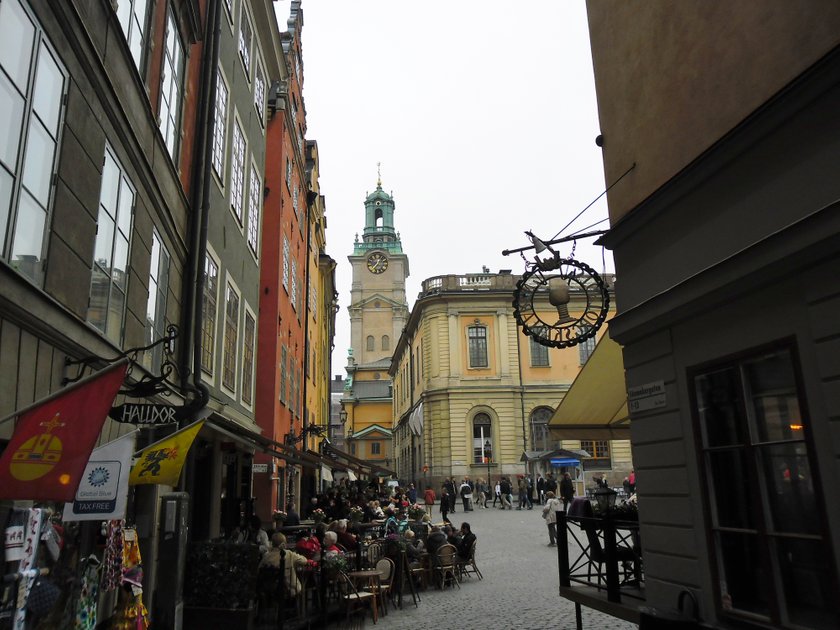 Stortoget 'Square' with Storkyrkan 'Church' in the background
We also stumbled upon the changing of the guard at the Royal Palace, (Palace pictured below), not a spectacular event but still worth seeing. It happens at 12.15 every day.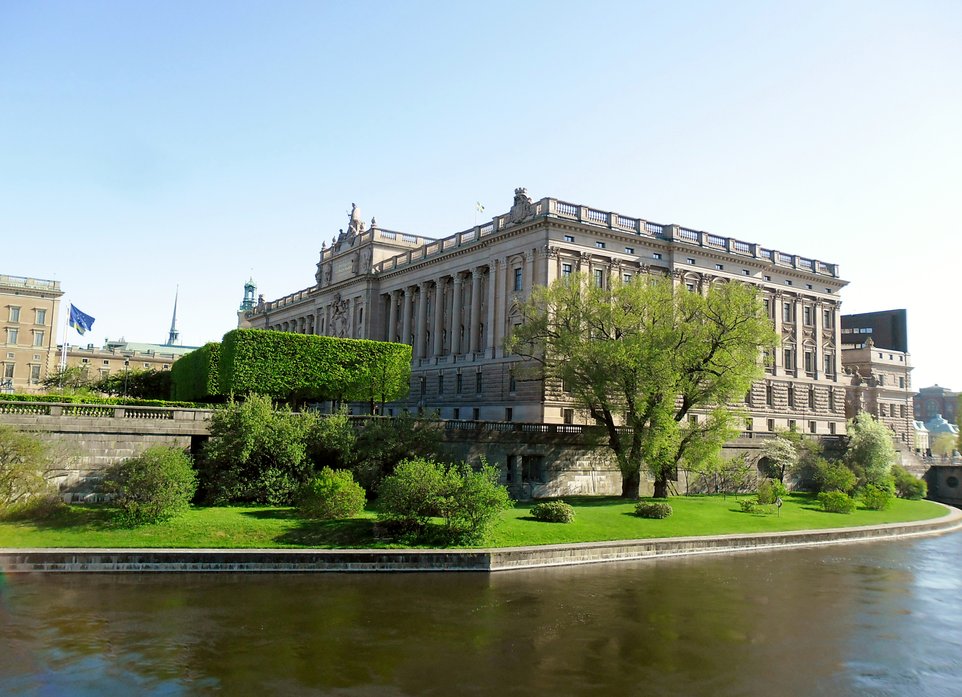 The Royal Palace
A natural extension of a walk through Gamla Stan is a walk around the harbour area.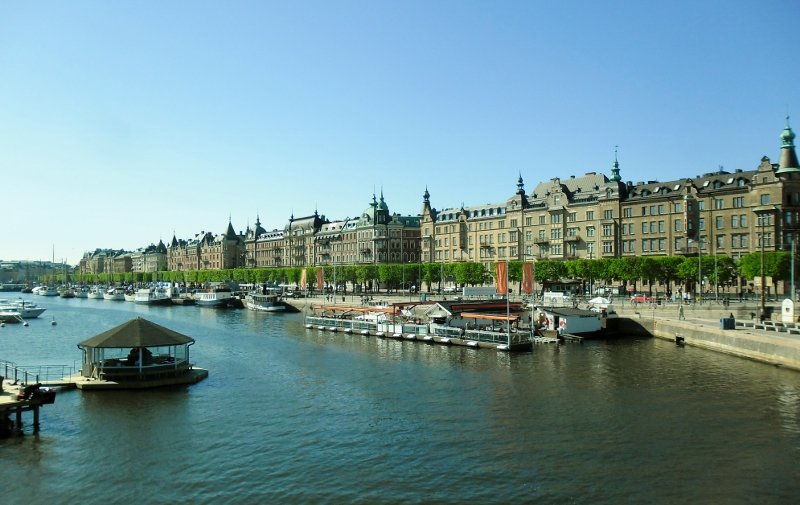 A walk across Norrbro to the Kings Garden for a picnic lunch.
You can pick up lunch for about £10 in a restaurant, not including drinks.
Followed by a walk to Hedva Eleonora Church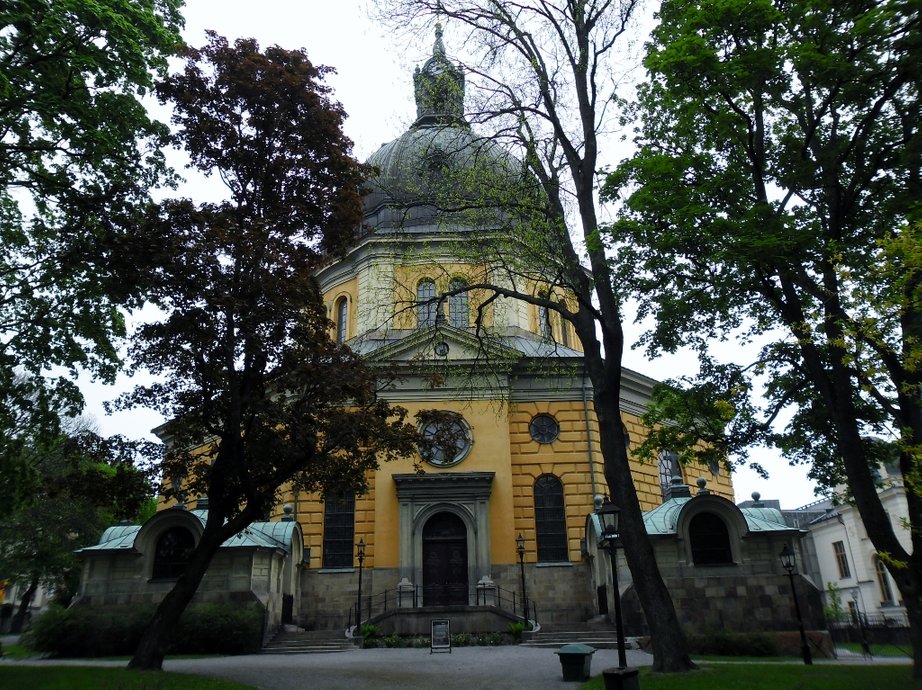 and a visit to Saluhalle which was Stockholm's answer to Borough Market.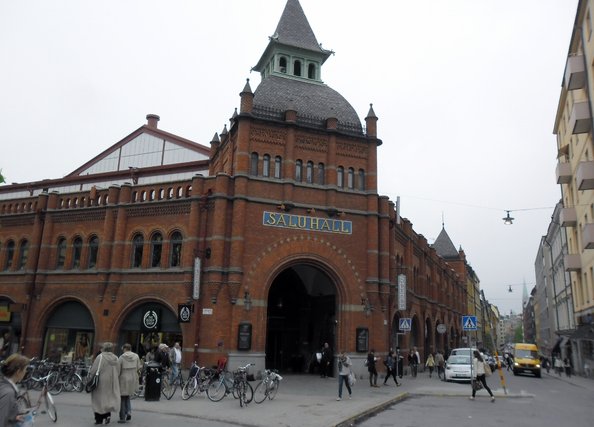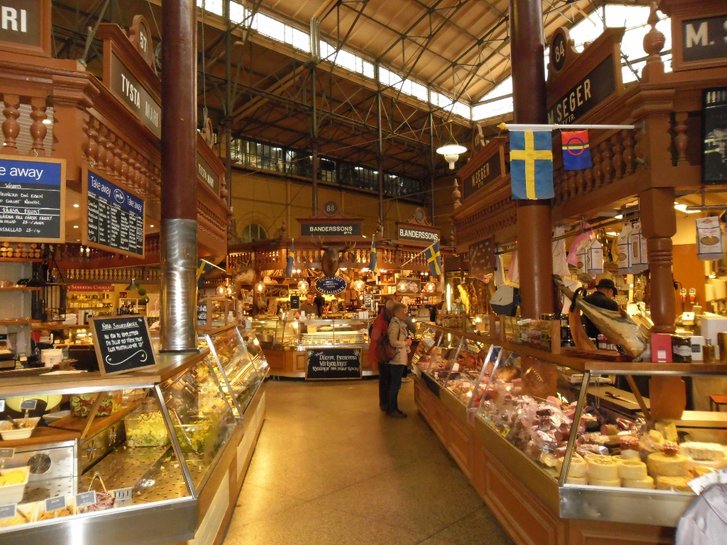 You cannot fail to be impressed with Stockholm, it has everything, a charming old town centre, a harbour and water at every turn, spectacular buildings, shopping and open spaces within walking distance of the main built up areas; and also some very friendly locals.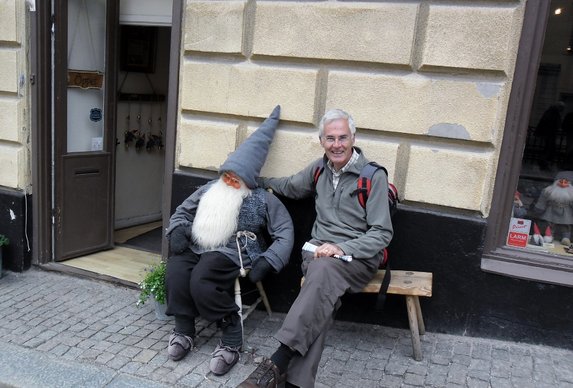 GRANNA
We stopped here as a stopover on our way to Gothenburg, and though it is possible to drive it in one hit, about 5.5 hours, we generally do not like to travel more than 3 hours and this town is peacefully situated on the banks of Lake Vattern.
We stayed at Grannastrandens Camping on the shores of the lake and were rewarded with excellent lakeside views.
www.grannacamping.se
This campsite has excellent facilities and since they were all modern you had the feeling you were in a 5 star hotel. Even the motorhome service point had a sink with soap and towels.
What was particularly impressive were the kitchen facilities provided, you will be lucky to find a microwave on many UK sites, this site had a whole bank of them.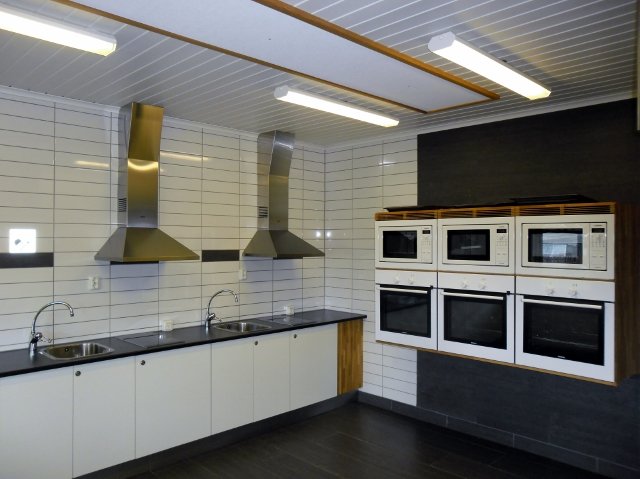 With free Wi Fi, which actually worked and at £21 this was a great site to chill out at.
Granna is the equivalent of a UK chocolate box location and we must confess that we were attracted by the fine wooden buildings on the main street.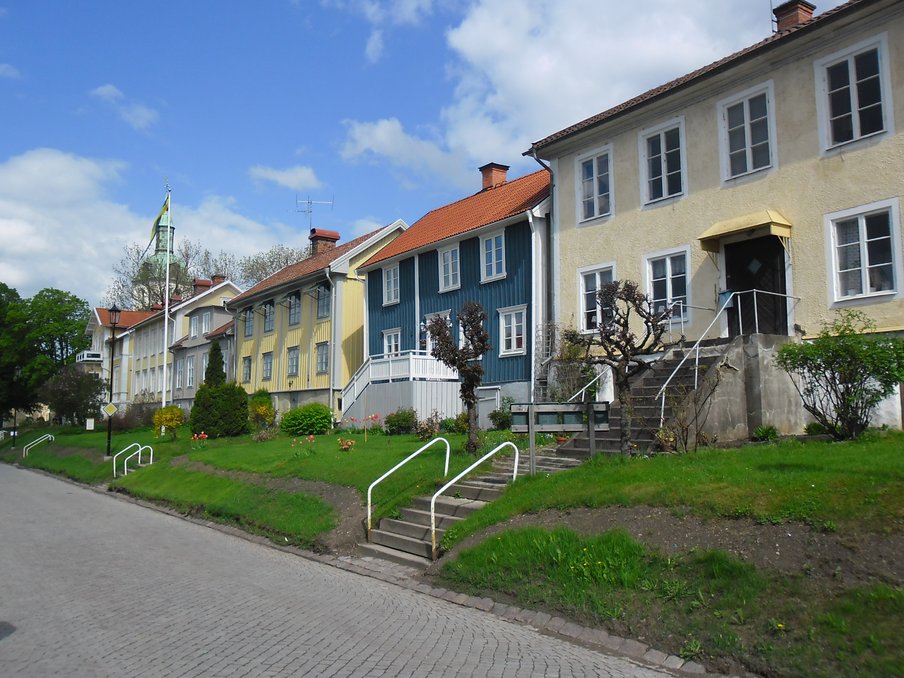 It is not chocolate that the town is famous for but the peppermint candy, red & white candy sticks or Polkagris.
It does seem that every other shop is a sweet shop and you can also see them making the sweets but call be a killjoy, but a stick of rock is just a stick of rock, and also I can recall the same process in the old rock shop in Folkestone, now sadly gone.
There are also some fine cake shops.
The town is also the departure point for boats to the neighbouring island of Visingso, which is great to take your bikes on the ferry and just enjoy the virtual traffic free environment and our pitch had a view of the departing ferries.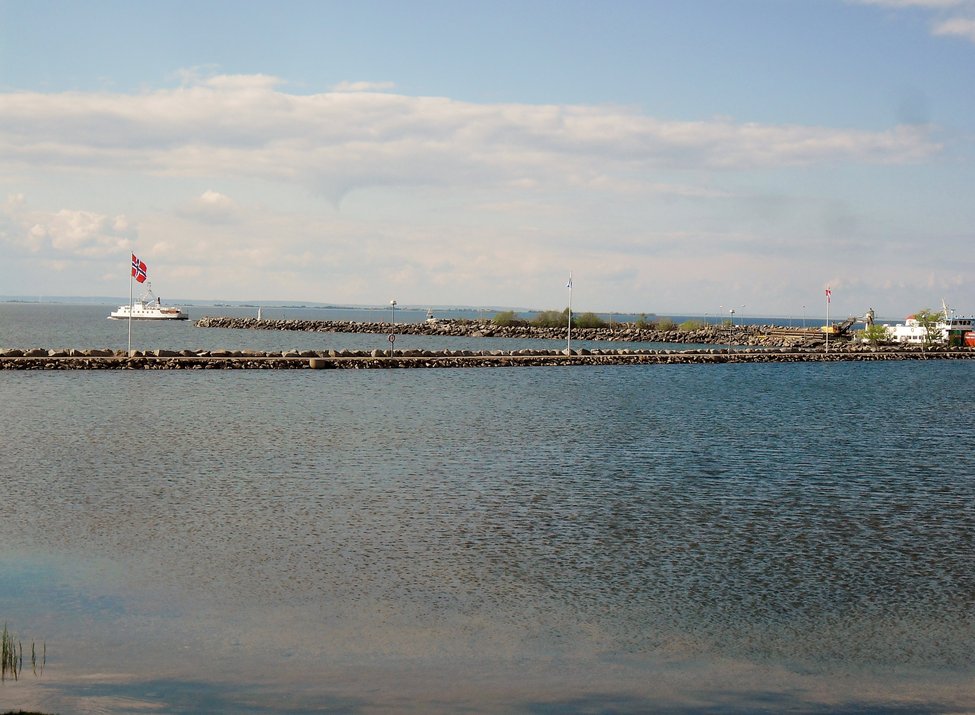 All in all this was a good place for a chill over stop.
GOTHENBURG
This was our final city stop in Sweden. Gothenburg is Sweden's second largest city and Scandinavia's largest port and invariably after a visit to Stockholm, comparisons are made in one's mind and on these stakes Gothenburg does come second.
If you do, however, put these to the back of your mind then Gothenburg is well worth a visit. It has some pleasant squares, open boulevards, some fine buildings and a canal network with a lot of it surrounded by parkland and of course it has a working harbour.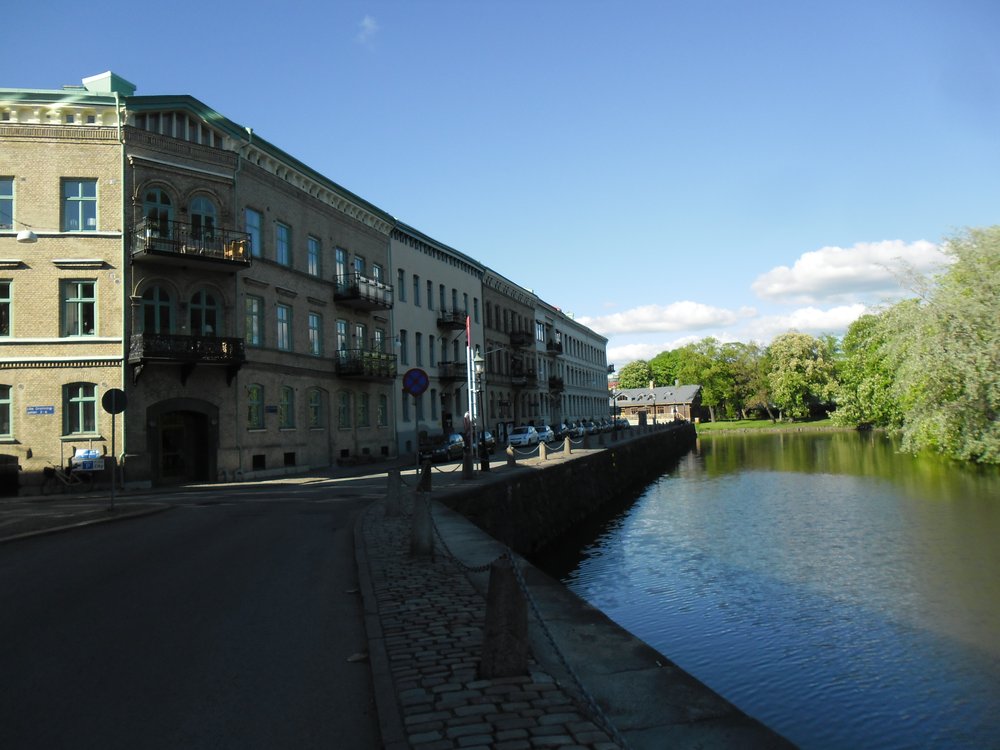 The city is compact enough to make it easily accessible on foot, though we explored it on our bikes.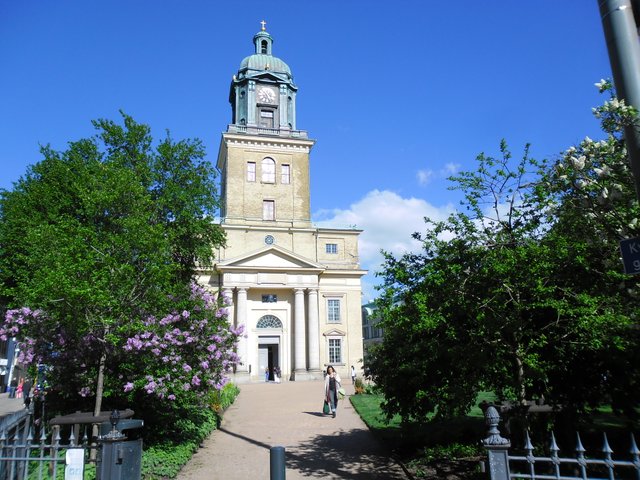 Gothenburg Cathedral, dates back to the early 17th Century, though previous churches occupied the site.
We used our bikes to get from the Karralunds Lisberg Camping, about 3 miles from the city centre. At 350 kroner, about £35, this was the most expensive site to date. The facilities were fine.
www.liseberg.se
An alternative would be the motorhome stopover, just up the hill, past the site, which we only discovered on leaving. This is not a French Aire. Pitches are marked out, electricity provided, together with water (extra) and a dump point, together with a picnic table. The cost was 180 kroner (£18) for 12 hours and 240 (£24) for a day and the machine accepted credit cards. In our view it was a superior setting to that of the campsite but of course, no toilets or showers.
As we have found in most of the places we have visited, cycling has been easy and a great way to see a city quickly.
When you cycle you will pass the Liseberg's Amusement Park, the biggest in Northern Europe. This is the biggest attraction in Gothenberg, though we were quite happy to give it a miss.
You can easily do a circular route of the city using the canals and the ride into the centre from the campsite is a pleasant one.
An alternative to cycling is to take the tram which stops just outside the campsite and this also passes the amusement park. In fact the cycle route follows the tram line.
Tickets for the tram can be bought at the campsite, 93 (£9.30) kroner for 5 single tickets or from Pesbryn newsagents.
Fjallbacka
This fishing village, north of Gothenburg, on the way to Oslo, about 10 miles from junction 103 is simply beautiful, a two hour drive.
It is also famous for its links with Ingrid Bergman who had a summer house on Dannholmen, one of the islands, opposite the village and there is of course the obligatory 'Ingrid Bergman Square'
It was the perfect place to chill out and made a welcome break from the Cities.
We were very fortunate in that we blessed with super weather and it was enjoyable Just strolling around and soaking up the atmosphere and to watch the sunset was just magical.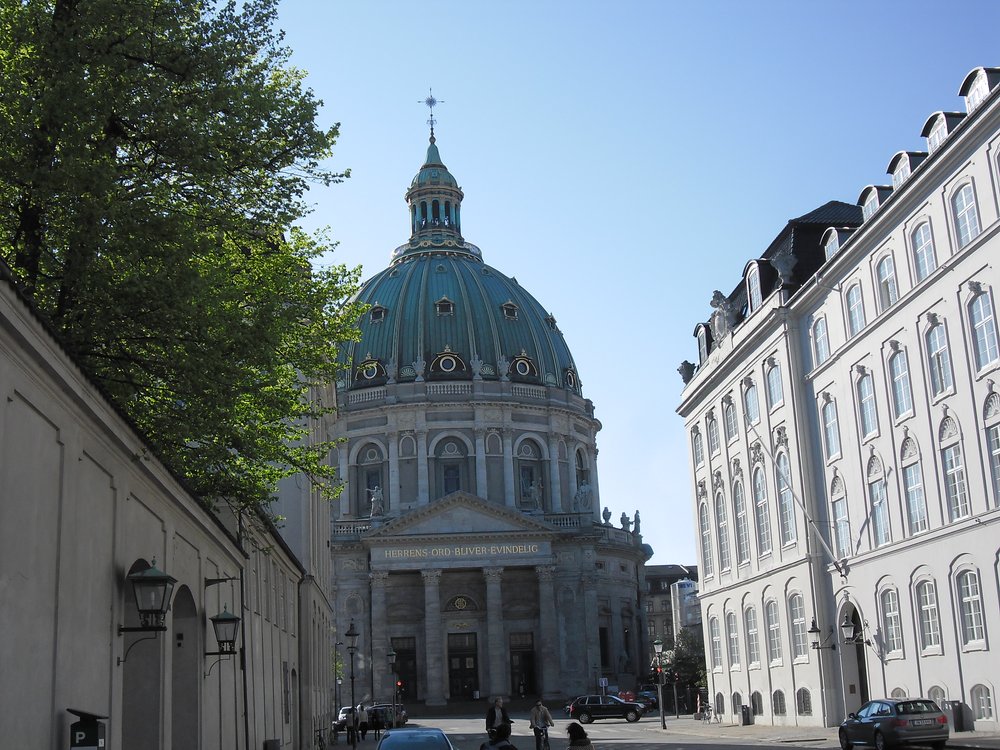 We stayed at Camping Fjallbacka in Storvik, just outside of the village, about a ten minute walk.
This site has older facilities and a bit more basic but perfectly clean and we had a great pitch. This site only accepts cash and we settled for a non electric pitch at 210 kroner, about £21, as we literally were down to that amount in cash and we did not really want to draw out any more cash. In any case the ATM in town was out of action.
On the subject of cash, you can virtually pay for everything on your credit card in Sweden and unlike Denmark we were not once charged a surcharge.
One of the must do's when in the village is to take the " Vettberget climb", which can be found opposite the tourist information site. This takes you up to the rocky outcrop above the town and offers unparalleled views over the archipelago, opposite the village. You also pass under two massive hanging rocks, trapped in the ravine, called Stenroset "Bomans Grotta". I challenge you, that you will not be tempted to run under them quickly.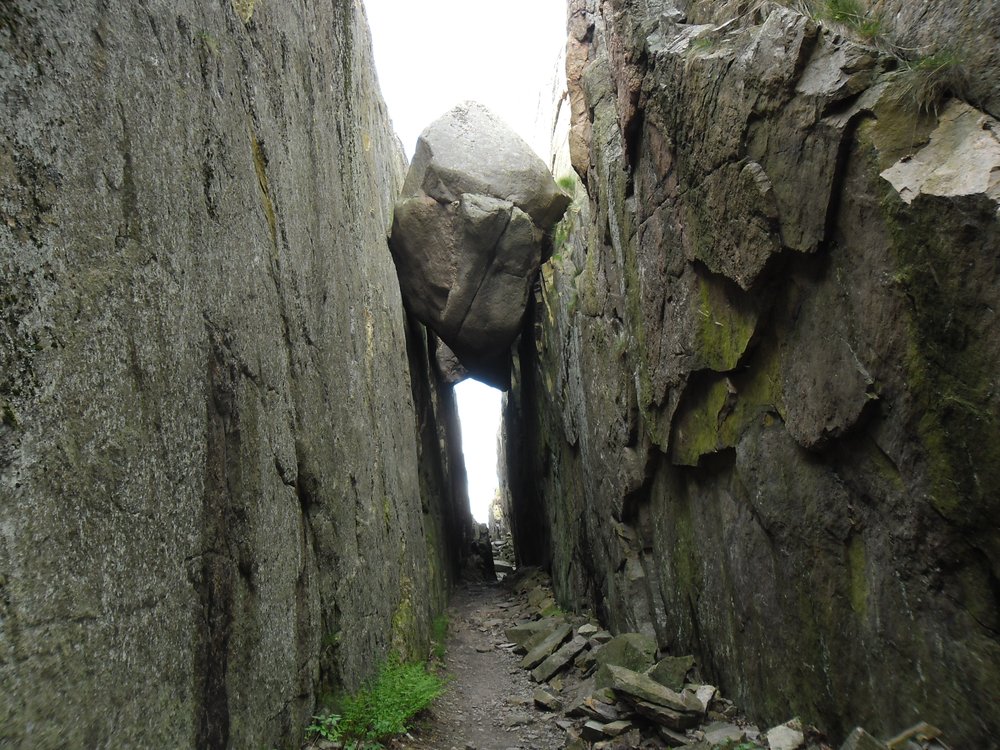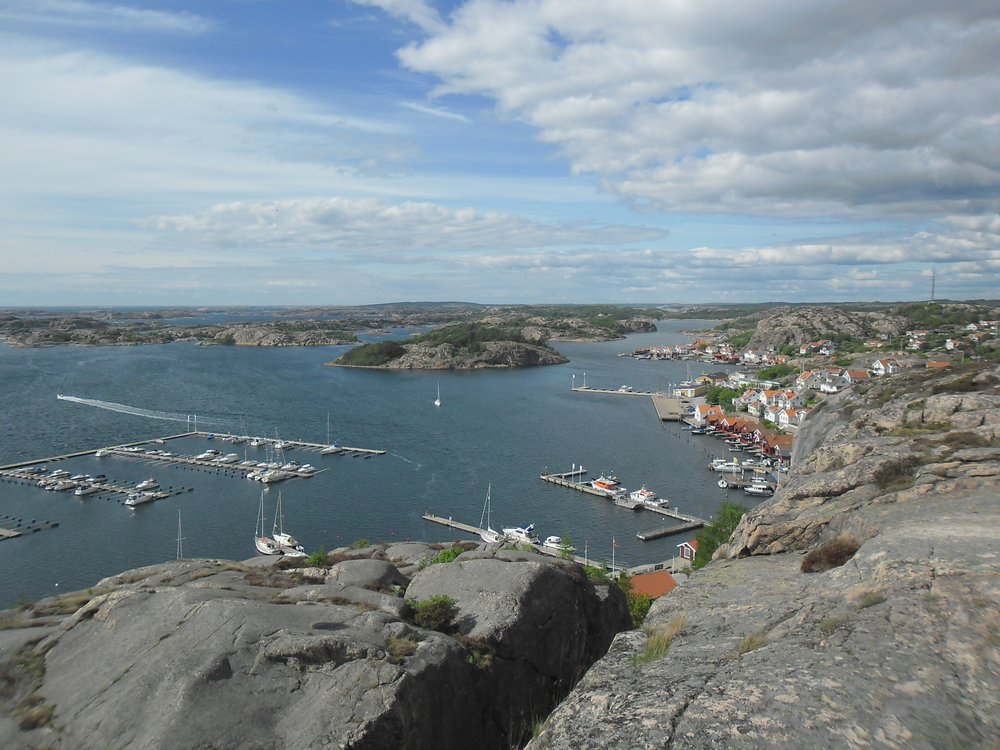 Don't ask me which was Ingrid's island?
At the end of the walk you are greeted by two vociferous Westies who guard what their owner calls "Checkpoint Charlie". He used to work for SKF and spent a year working in Luton and lived in Berkhamsted , less than 6 miles from us at home. He had retired to the village where he was born and where his father had been the coastguard, so the circle was complete.