The Bernese Oberland offers some of the best walking and scenery anywhere in the world and it has the added benefit of a transport system to die for.
We stayed at Camping TCS on the banks of the River Aare(see below) e mail camping.interlaken@tcs.ch
www.campingtcs.ch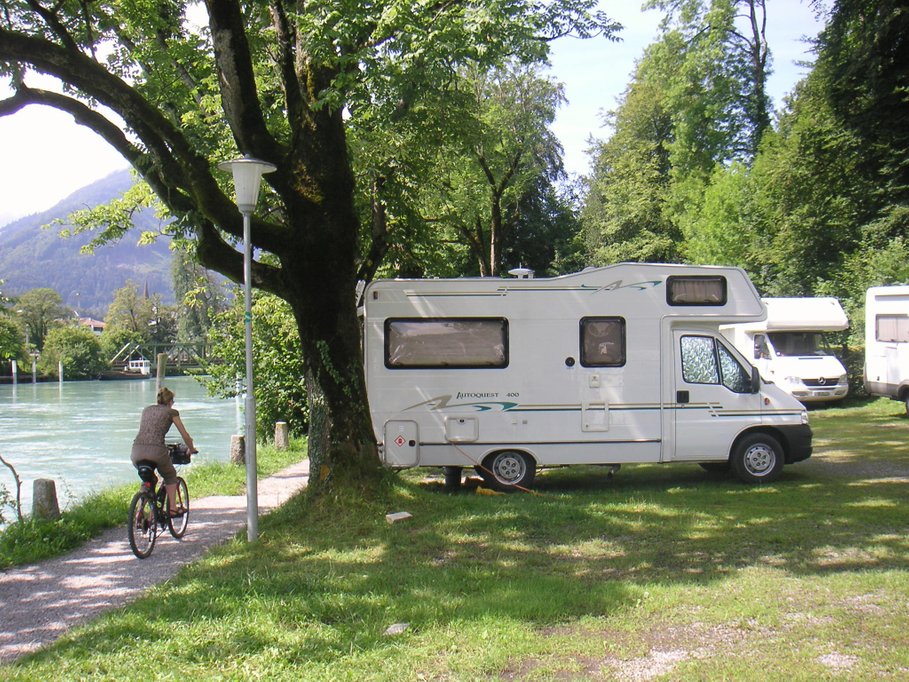 This site, not only in a beautiful position but has the added benefit of only being a 5 minute walk to the shops and also to Interlaken Ost railway station, which opens up the whole of the Bernese Oberland.
Other sites such as Lazy Rancho or the site at Bonigen can be accessed via the website en.camping.info/switzerland/campsites
These sites are not quite as central for Interlaken but have good reputations.
At Interlaken Ost station you can buy the Jungfraubahnen Pass for 200SF which provides 6 days unlimited travel on their network of trains, cable cars and postbuses.The alternative is the Regional Bernese Oberland Pass at 230SF which provides 3 free days travel and 4 at half price, over their network.This had the advantage that it covers the boats on the Thunersee and Brienzersee.
Always ask what deals they are offering, particularly if you have children. I forgot to mention that everyone appears to speak English which puts us to shame.
Just be careful,the cable cars and mountain railways finish early, typically 5.30p,m so if you miss one you could have a long hike down. We can recall missing the last Mannlichen gondola and rushing over to get the cable car down to Wengen, getting it in the nick of time and then the train, to avoid a 3 hour walk down. One of the advantages of the passes, is that you literally do have unlimited travel and on our first visit we murdered the cable cars and trains but now we just see them as a means to an end, albeit a very picturesque one.
Classic High Alpine Route Schynigge Platte to First via Faulhorn
(picture shows descent to Bachalpsee,also a popular short walk from First Cable Car Station)
The starting point for this walk is an early morning train from Interlaken to pick up the cog railway at Wilderswil to Schynigge Platte, for breakfast, with views of the Eiger, Monch and Jungfrau, before starting the well signposted walk to First, enjoying spectacular mountain scenery as well as views over Interlaken, Brienzersee and Thunersee.
The walk is 9.3miles, so you should allow at least 6 hours, there is no need to rush, as long as you catch the last cable car down from First and this will be signposted at the start of your walk .
There are numerous rest stops on this route where you can sit with a drink or catch a bite to eat and soak up the scenery, such as at Manndlenen or at the hotel at Faulhorn, at 2686m this is the highest hotel in Europe.
An alternative is to bring a picnic and just stop where you fancy. The descent takes you down to Bachalpsee, (see below) a picturesque spot in its own right and where you will meet hundreds of walkers doing the short round trip from the cable car at First.
An extension of this walk is to continue from First to Grosse Scheidegg, another hour and a hal,f where you can catch the post bus down into Grindelwald, sounding its horn as it sweeps through the mountain bends, before catching a train back to Interlaken.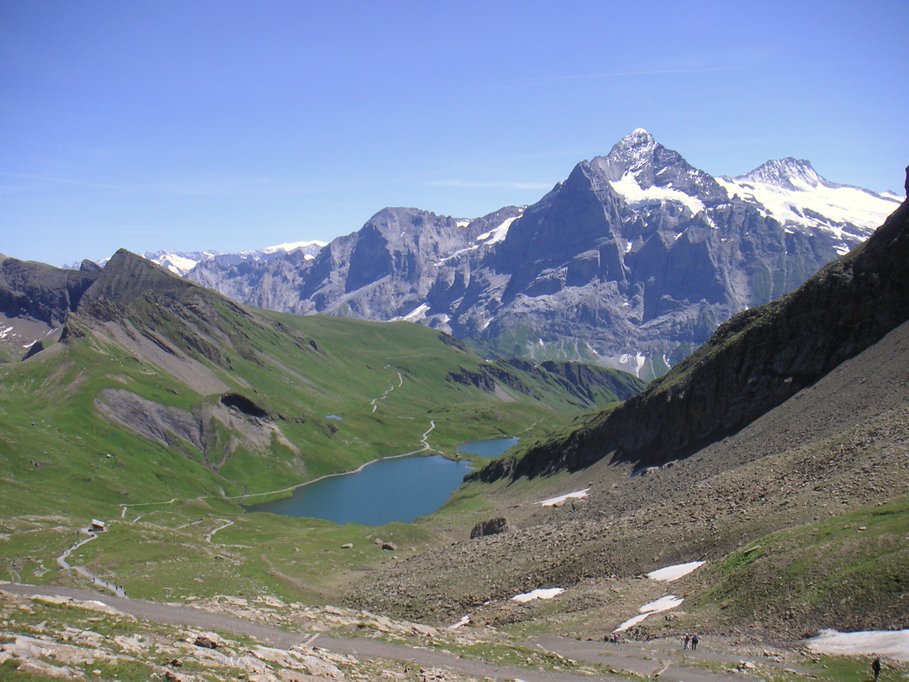 EASY PEASY WALKS
Cross the River Aare and walk along to Bonigen(and another campsite) until you reach Brienzersee, then walk around the lake to Iseltwald, the first part of the walk is along the road and then you pick up a path which skirts the lake.
It is called the Romantic Walk and I will let you be the judge of that but it is extremely beautiful and time your arrival right and you will be able to get the return ferry back to Interlaken and if you check the timetable you may be able to get the steam boat Lotscberg back.(picture below)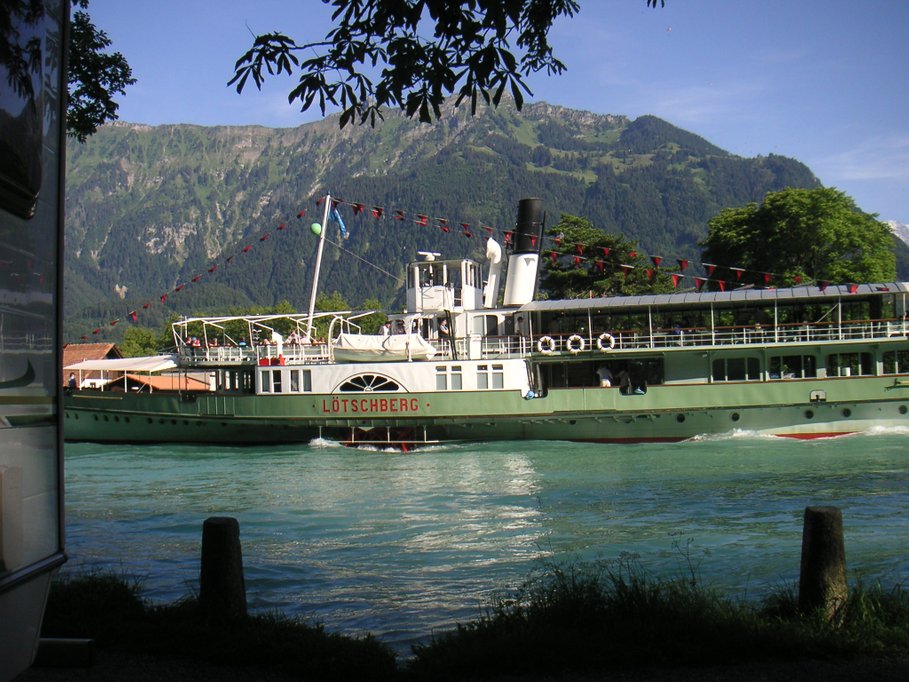 Walk or better still cycle along the canal to Neuhaus and to Thunersee, take a picnic and sit beside the lake or lunch at the Hotel at Neuhaus or a llittle bit further to the campsite at Manorfarm which has a good restaurant serving quality pizzas.
If you do decide to walk you can get a bus back from Neuhaus.
One of the most popular walks, which has the benefit of being mostly on the flat but enjoying spectacular mountain views, is the walk from Mannlichen to Kleinne Scheidegg.
You take the gondola from Grund to Mannlichen and the walk is about an hour and a half; you will not be alone but do not let this put you off , the views are outstanding.
You could return the same way or combine this walk with a trip to Jungfraujoch.
No trip to the Bernese Oberland is complete without a visit to Jungfraujoch and the shuttle train starts from Kleinne Scheidegg.(Please note that the Jungfraubahnen pass does not cover this leg of your journey, this is extra).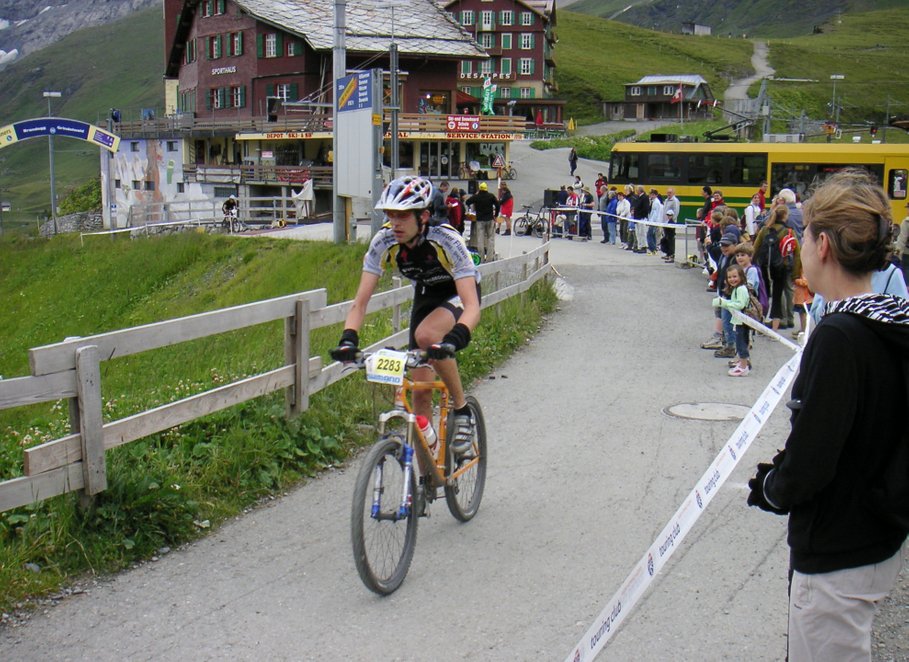 The station at Kleinne Scheidegg is always busy as people make there way to Jungfraujoch or just come up to the station and enjoy the views and take refreshments.
On this day it was particularly busy as there was the annual bike race from Grindelwald via Kleinne Scheidegg, a serious cycle ride.
At Jungfraujoch you can chill out, sometimes literally as the temperature will be sub zero so take warm clothes, sunglassses and suncream or you can ski, toboggan or take a husky ride.
Do not go up unless there are clear skies, weather forecasts are provided locally, which will include pictures at the top of the mountains.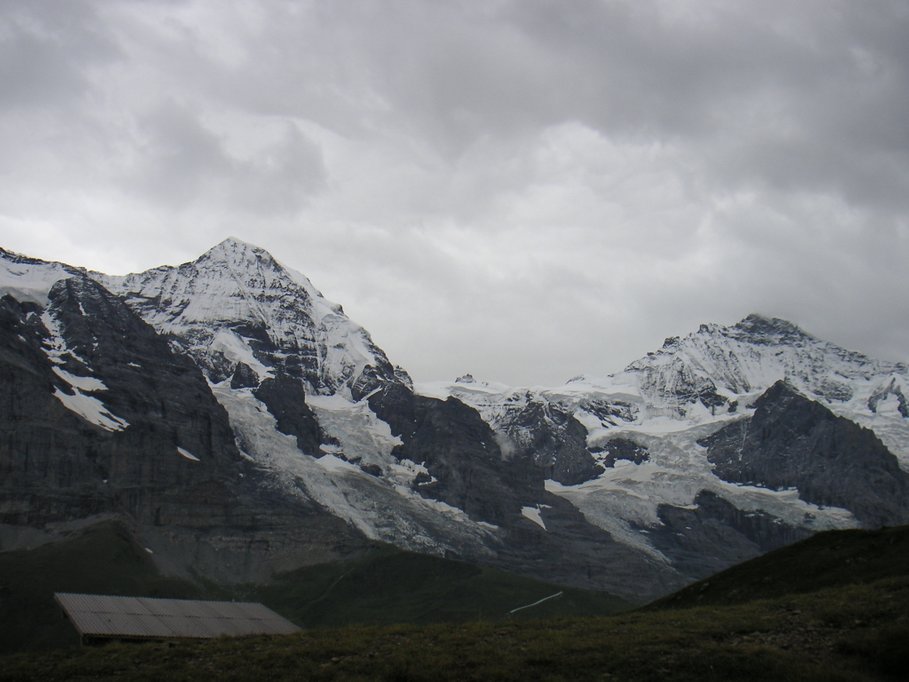 Jungfraujoch, from the walk from Mannlichen to Kleine Scheidegg and though it is clear to see, it soon disappeared, so not a good day to take the train up.
On this day we had planned to walk from Eigergletscher (Jungfraubahnen Pass covers this station) via Mettlenalp to Wengen. We did in fact have to curtail this walk and move onto the track down to Wengen, as literally the heavens opened and the Bergweg was getting too dangerous.
How to do it
The beauty of the Bernese Oberland is not only the spectacular walks and scenery but the outstanding transport systems, which means that you will never be far from a train, bus or cable car, which will take you back to where you started, which makes a whole variety of walks possible.
All you need is a copy of the walks and a train timetable. These will be available at tourist sites, train stations and campsites. You do not need anything more complicate.
As in all mountainous areas, just make sure you are prepared with good footwear, warm clothing and waterproof outer wear together with food and drink.
All the wanderwegs which tend to follow gravel tracks are well signposted with estimates of times involved. The mountain tracks called " bergwegs ,"are also well marked with red and white markings, as the attached photograph , so Julia can not get lost.
GETTING THERE
The easiest way of getting there is to take the motorway to Lille from Calais, then through Belgium, direction Namur, avoiding Brussels, before going into Luxembourg(not forgetting to fill up with diesel in Luxembourg as it is one of the cheapest In Europe, prepare for queues)bypassing Metz, picking up the A4 toll motorway to Strasbourg, before crossing the Rhine and heading down the A5 motorway to Basle and onwards to Interlaken.
Do not forget to stock up on the essentials, such as beer and wine before entering Switzerland, as Switzerland is expensive, even more so given the weakness of the Euro and sterling against the Swiss Franc. Diesel, however, is still reasonably good value.
This route avoids most of the toll roads which you would encounter if you took the route through France. You will need to buy a vignettte for the Swiss Motorways, this can not be avoided, at about 40SF. This can be bought at the border and you used to be able to buy them at German filling stations.
An alternative route on the return is at Basle, take direction Mulhouse and pick up the A35 to Strasbourg which is toll free. This has the added advantage of going via Colmar which is a must for a stopover.
STOPOVERS
We caught a mid morning ferry from Calais and then made a stopover in Belgium:
www.camping.durnal
This has a pleasant rural setting with good facilities, including a motorhome service point near the town of Spontin and is only a couple of miles from the motorway.
We then made a 4 day stopover in the Black Forest at Camping Belchenblick in the town of Staufen.
www.camping-belchenblick.de
This town is a delight, it was badly damaged by an American airraid in the 2nd World War but has been restored beautifully.
There are some excellent cycle rides from the site and full details can be provided at the tourist office in the town.
We actually cycled to the Rhine and to the town of Breisach, which is an all day ride of about 40 miles but it is fantastic and most of it is on off road cycling or very quiet roads; though we did get lost, but that was down to our poor navigation, rather than any real difficulties in the signposts or mapping.(the picture below is of Staufen centre)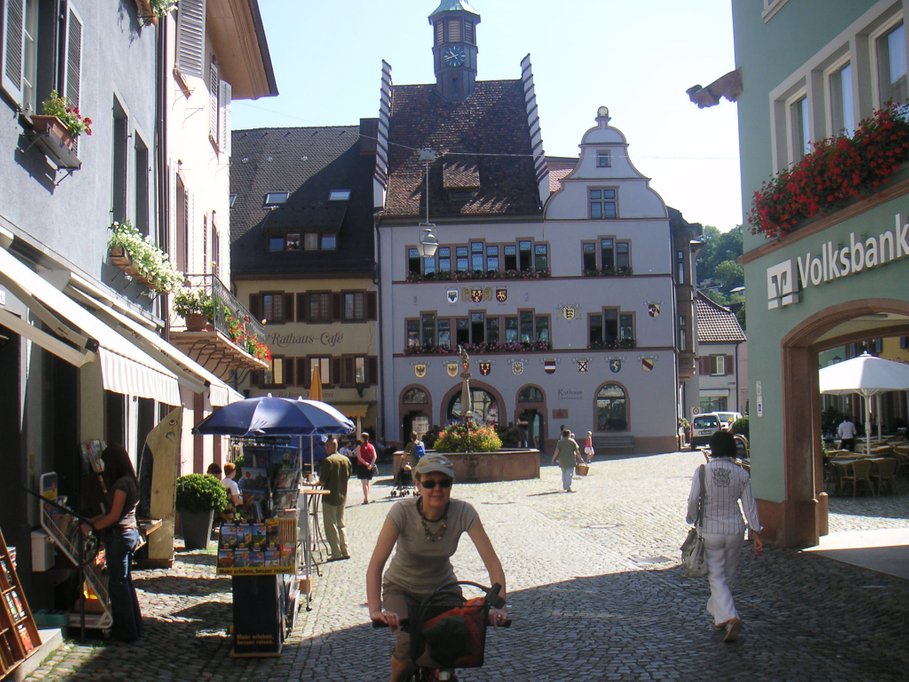 An added bonus of this site is that they gave us a free pass for the Deutschebahn railway which enabled us to take a trip to Basle, a city that we have passed so many times but has eluded us and the old town and the river makes it a very worthwhile trip.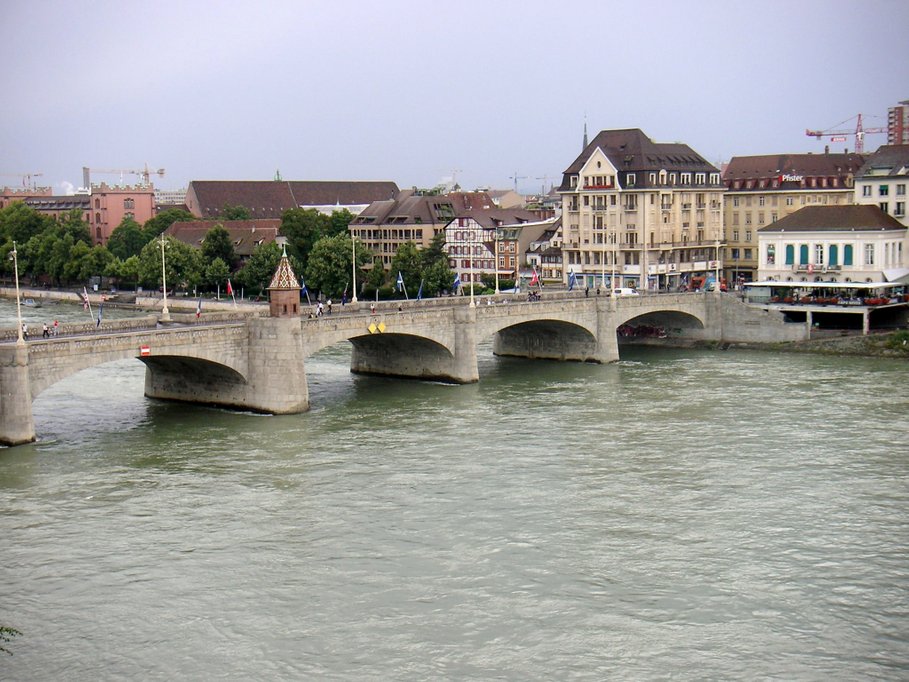 The Rhine has always played a pivotal role in Basle's development
On the return journey we stayed at L'Etang des Forges in Belfort.
www.camping-belfort.com
The site is a couple of miles outside of town but again it is an easy to walk or cycle into the town, which is well worth a visit, particularly to see the imposing citadel. (below)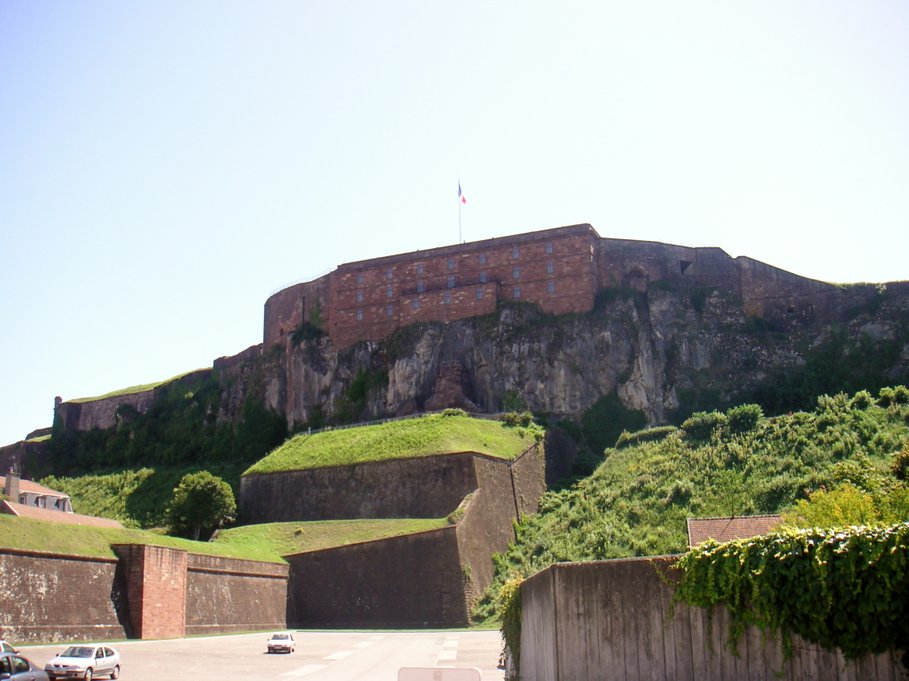 A visit to the local tourist office uncovered a great cycle route out of town following a canal. Our sense of adventure got the better of us as we decided to return along a different section of canal and promptly got lost but have no fear, using our basic schoolboy French, we were able to recover the direction into the City and back to the campsite.
No trip is complete without a stopover at Colmar and never mind how many times I have done this trip, I never bore of a vist to this town, it is charming.