TOPEAK QUICK TRACK SYSTEM
The challenge was to find a luggage carrying facility for my bike, not necessarily to satisfy our green credentials, though subsequently our choice did create considerable versatility, to allow us to go shopping for supplies for our motorhome by bike.
Nor was it a feeling of guilt, that our previous mode of cycle carrying capacity, was satisfied by a basket from Halfords on Julia's bike and that the transport burden had fallen on her.
It was nothing as virtuous as relieving that burden, it was the simple fact that after two baskets had failed, one inevitably came to the conclusion that they were worse than useless.
The solution was the Topeak quick release system.
The system is comprised of two parts.
Firstly you have a beam rack which fits onto your saddle pillar or a tubular system which will fit into purpose built lugs on your cycle frame.
Both are easy to fit.
Secondly you have a luggage bag which slides effortlessly onto the appropriate rack.
We chose the MTX Trunk Bag, which has two side panniers, which fit into two zipped pockets on each side of the bag.
The carrying capacity of the bag alone is not that large but sufficient to take a picnic lunch, which is what we wanted.
With the two panniers down you dramatically increase your carrying capacity and we find it enough to carry our shopping, to cover a couple of days.
If you have the pannier bag system, then you need a tubular system rather than a beam rack.
The beauty of the system, other than its sturdy load carrying capacity, is its quick release mechanism, which allows you to take the bag off when you have to leave your bike.
The bag also has a detachable carrying strap.
Expect to pay in the region of £100 so it is not the cheapest system but it is quality.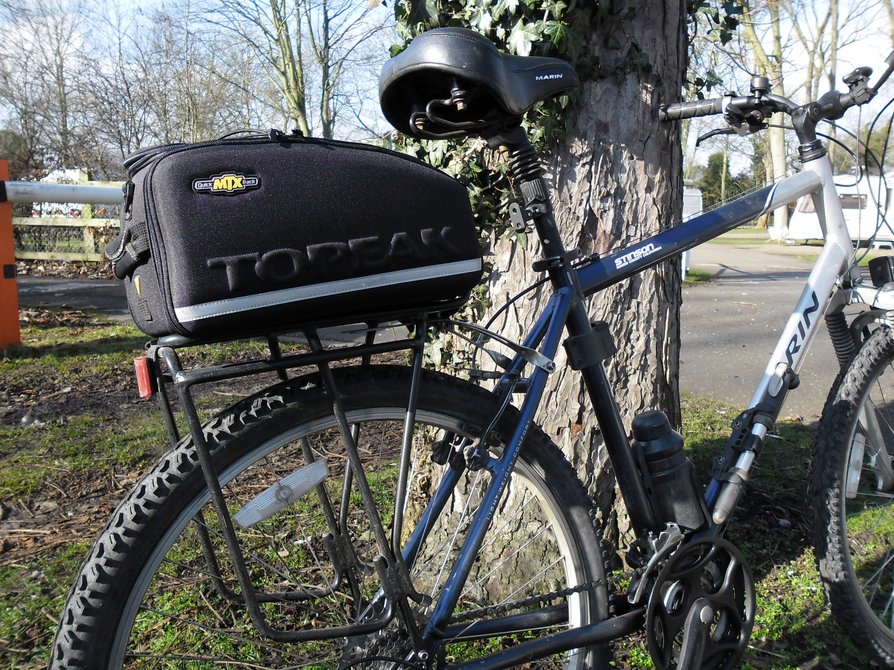 Or with the Pannier Bag (see below) There are two, one on each side